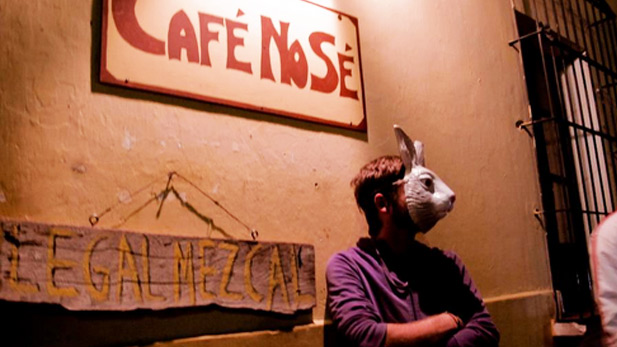 Courtesy of Café No Sé/Ilegal Mezcal
Listen:
Tequila has been at the forefront of Mexican liquor migration into the U.S. But another agave drink, mezcal, is also starting to make inroads.
A brand in particular, now found in the Old Pueblo, has a clandestine past. Its place of origin, a small bar in Antigua Guatemala, is where the creator first shelved small quantities of the unlicensed mezcal, creatively hidden and transported from its birthplace, the Mexican state of Oaxaca.
"I would say that anybody can put spirits in a glass and you can make a drink and you can memorize recipes, but it is nice when a product itself has a story that is compelling..." said Travis Reese, owner of downtown bars and restaurants 47 Scott, Scott and Co and Saint House. "The fact that this product was taken across borders, and that it was, for a long time, in very small quantities ending up in Guatemala, it was very compelling to us, and it is the kind of story that we like to tell."
On this Thursday afternoon, Reese is at 47, his first-born, talking about this brand of mezcal he's specially inspired by.
"Ilegal was a revelation for us," he said. "We want to know that our products are coming with a little bit of love and a lot of craft...have a story behind them and it's not maybe just from a giant warehouse and that's all we know about it."
Ilegal Mezcal is the child of John Rexer, an adventurous New York native, who grew tired of the U.S. life and embarked to Mexico in the 1990s and early 2000s, later to land in the colonial Guatemalan city of Antigua.
Housed among structures that date as far back as the 16th century, Rexer's Café No Sé came to life about ten years ago.
"I had opened that bar very quickly, and told people I was going to have a mezcal and tequila bar," Rexer remembered during a phone call from Antigua. "A couple of weeks before opening...realized that there was basically no mezcal and very little tequila in Guatemala. I knew Oaxaca fairly well and I decided, 'Well, this is an excuse for a good road trip, go back up and visit beautiful places that I loved in Oaxaca, and go and collect mezcal."
He got a pick-up truck and embarked for Oaxaca, which is where most mezcal comes from. It takes about 24 hours to get there from Antigua. With a Polaroid camera at hand, he photographed the mezcal-making process in every village he visited, asking...
"'Who makes the best mezcal in your village?' And try and taste and learn about the process," he said. "It was a fun adventure, and it was more an adventure of discovery. Each time I would go up there, I would try to hit different villages and places I hadn't seen before, spend time, spend days there and bring back home mezcal in unmarked bottles."
The mezcal sold more than Guatemalan rum at Café No Sé, so the 24 hours there and 24 hours back became more frequent.
John Rexer during one of his trips to Oaxaca drinking some mezcal.

Omar Alonso
In the early days, it was easy to camouflage the no more than 30 bottles of uncertified Oaxacan mezcal to bring back to Antigua. Then, Rexer's provider suggested he take a pallet, which was about 500 to 600 bottles, to space out the trips a bit. But legally, that was a no.
"I prefer to stay away from that word 'smuggle.' Lets just say we creatively transported mezcal across rather dubious borders," he joked. "At one point, I had a producer, he looked at me and said, 'John, why...you're killing yourself, you keep running back and forth here, why don't you bring down a lot of bottles at once?' And he looked at me and said something that I've learned to love in Mexico, 'No te preocupes, yo tengo un tio,' 'Don't worry I have an uncle,' he had an uncle at the border."
By 2006, the mezcal consistently and quietly migrated to Antigua. Locals were infatuated. Tourists would ask if they could purchase bottles to bring back to L.A., New York...even London.
Still, creating a brand never crossed Rexer's mind. But others planted that seed in his brain.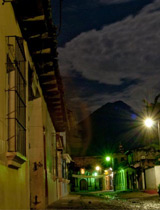 View of Guatemala's Volcán de Agua outside Café No Sé. (PHOTO: Courtesy of Café No Sé/Ilegal Mezcal)
Around that same time, a mezcal-certifying agency was gaining momentum in Mexico, Consejo Mexicano Regulador de la Calidad del Mezcal, or COMERCAM. And Rexer's provider, or mezcalero, Eric Hernandez, had received a first denomination of origin for his mezcal, which meant the region it came from and how it was made were a green light for production.
His mezcal could now come across in broad daylight, so Rexer decided to move forward with a brand.
"...But before we jump head...into this, lets first bring it to Guatemala, experiment with it for a couple of years, really get to understand the industry from a marketing perspective in the U.S. and Europe so that we understand what we are doing...take the time and develop the brand in the house...in the bar with friends," he said.
The exporting began in 2010.
Reese caught it for 47 Scott around that time, back when the spirit had barely begun to cross borders.
"We were a few months open, and we were always looking for unique products," he said. "At the time, four or five years ago, mezcal was a little bit harder to find, so for us to find something like Ilegal...it was a little bit of a game changer for us, because before that we were working with tequilas and otherwise there wasn't an agave spirit that were really excited about."
Reese said the best thing to do with Ilegal is sip it. That's how he likes it.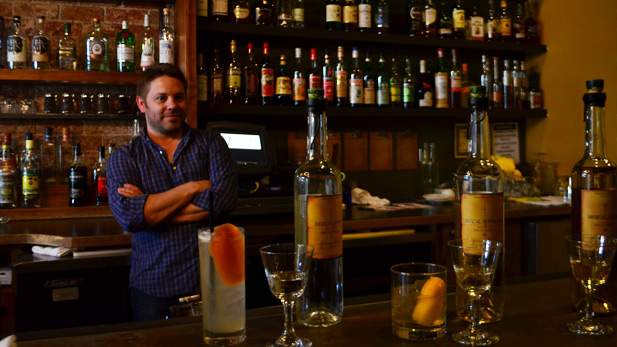 Travis Reese says Ilegal Mezcal was a revelation for 47 Scott's drink menu.

Maria Inés Taracena, AZPM
But that Thursday, as Reese stood behind the bar, he created a mezcalero take on two popular drinks, La Paloma and the Old Fashioned.
La Paloma is usually made with tequila, grapefruit soda or juice and some lime juice. Reese replaced the tequila with Ilegal Mezcal's joven, young or unaged.
"It's a little bit brighter, a little bit more raw," he said. "Works great with the grapefruit flavor, works really well with that tartness, and it takes a Paloma, a drink that most people in this region have tried, and takes it up a notch."
The Old Fashioned has been around for more than a century, and it's originally made with whisky or scotch.
"The thing about putting Ilegal reposado with it is...getting (something) a lot like a great whisky or scotch in a glass or a bourbon that is going to have more age on it. You are going to get a little bit of a barrel flavor, which will bring out some vanilla," Reese explained.
He took the bottle of reposado and poured two shots of it into a glass, then grabbed a glass bottle with simple syrup made at the house from sugar in the raw. "A little bit of orange bitters for that orange concentrate flavors, and we just stir and let the mezcal speak for itself."
At Café No Sé, the small mezcal bar is hidden toward the back, behind a short, lime green and rusty refrigerator door. One literally has to duck to enter. And there's a rule, two shots minimum or make room for others.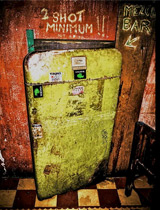 The small mezcal bar at Café No Sé is hidden behind this green, rusty refrigerator door. (PHOTO: Courtesy of Café No Sé/Ilegal Mezcal)
The tradition began with an 83-year-old American man who was the bar's first mezcal bartender.
"Then after that, you could drink beer, and (he said) the only thing you served in the mezcal bar is mezcal and beer, and the only people who were exempt from these rules were pregnant women," Rexer remembered with a chuckle.
He enjoys that rule.
"I like things to happen in a bar, I like conversations to start, I like arguments to star, I like people to start singing, and I like that little tiny room to be that space...it also gets people to actually taste and know mezcal," he said.
Rexer is humble about his accomplishments. And, aside from now selling Ilegal in cities such as New York, L.A. and Austin, everything else has remained the same, from the pick-up truck trips to Oaxaca to their provider, Eric Hernandez.
Hernandez's style is what makes Ilegal so distinctive from other mezcals.
"He comes from a fourth generation family of mezcaleros, beautiful mezcal," said Rexer, who had recently returned to Antigua from a trek to Oaxaca. "I fell in love with his style and his philosophy. He is forward thinking, he cares about the environment, he cares about Oaxaca, he cares about growing mezcal to preserve traditions, and he also made a mezcal that I thought really accentuated the taste of agave more than just smoke."
He said he wouldn't like to see the mezcal industry get taken over by corporations, like much tequila has.
"It is one of the last few great liquors out there that is not an industrial product," Rexer said. "It is really still made in a very small way. I think people should never forget the word "art" is part of the word 'artisan,' and each mezcal maker does something different and unique in how they make mezcal."
He isn't hungry for an empire.
Rexer's relatively quiet life in Antigua keeps him at ease. When he's not traveling for Ilegal Mezcal duties, he hangs out at his bar and the adjunct bookstore he helped open. Rexer is also behind a magazine in Antigua called La Cuadra, the block, which he said he hopes will soon reach many readers.
Rexer's roots are deeply planted in both his adoptive homes: Antigua and Oaxaca. And with Ilegal Mezcal, those are now sprouting in Tucson.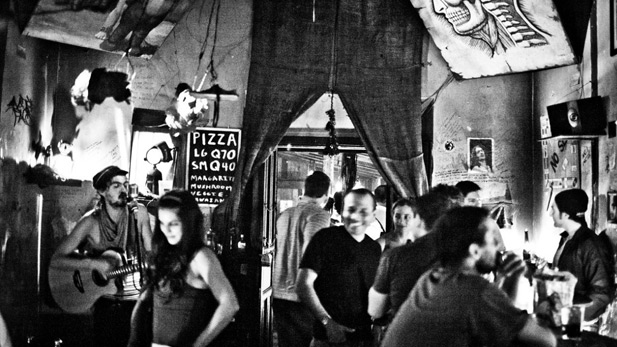 Courtesy of Café No Sé/Ilegal Mezcal