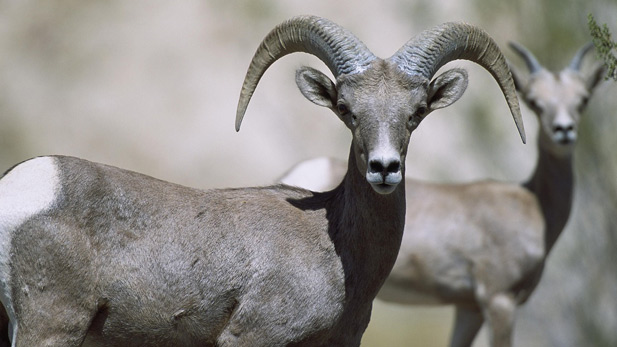 Female bighorn sheep
Listen:
Fourteen bighorn sheep were released Thursday morning into the Santa Catalina Mountains, north of Tucson, in the second stage of a project to reestablish a herd in the area.
The sheep, 11 ewes and three rams, were captured Wednesday in the Tonto National Forest northeast of Phoenix. After being vaccinated and fitted with GPS collars, they spent the night in a trailer at the base of Pusch Ridge, less than one mile off Oracle Road.
Media gathered around the trailer early Thursday, and just as sun rays began lighting the Catalinas, the trailer gate was thrust open. After a moment's hesitation, the animals began leaping from the vehicle.
They ran one after another into the wilderness and up the mountain.
"That's their instinct," said Mark Hart, with the Arizona Game and Fish Department. He said the animals will continue to head deeper into the mountain range.
"That's where they feel safest from predators," he said. "So hopefully they'll just climbing and meet up with the other sheep in a day or two."
The other sheep are 12 survivors of the herd of 31 that were relocated in Pusch Ridge a year ago. Most of the 19 that died in the last year were killed by mountain lions.
Game and Fish workers were capturing more sheep near Quartzite Thursday for release Friday morning.
Wildlife celebrity Jack Hanna was at the Thursday release, working on a video project about Arizona wildlife. Hanna said. He says animal relocations are the highlight of his career.
"You know when you see the happiness of these people seeing the sheep that were no longer here, and having the Tucson area get their sheep back, that's the epitome of what the Game and Fish and all of us work towards," Hanna said, "preserving these species for our kids and grandkids and generations beyond that."