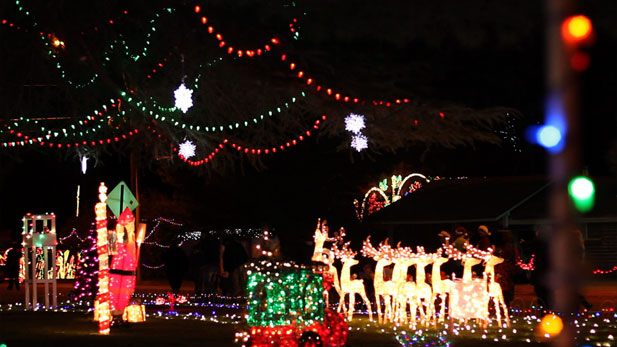 Part of the holiday lighting spectacle in Tucson's Winterhaven.

AZPM
Listen:
One of the Tucson area's longest-running holiday traditions is the Winterhaven Festival of Lights.
The neighborhood turns 65 this year, as does the long-standing tradition of residents festooning their homes with lights and decorations for all to see.
The land that now marks the historic neighborhood was built during a population boom in the late 1940s.
Prior to the building of the neighborhood, the area looked, and smelled, quite different.
"Before this subdivision was built, this was the Tucson Fertilizer Co.," said Tucson Historic Preservation Officer Jonathan Mabry.
The fertilizer company was owned by C.B. Richards. Richards decided to shutter the fertilizer business in favor of an 85-acre development of new homes.
"He envisioned it as evoking a Midwestern, middle-class neighborhood," Mabry said. "Part of that vision was to have Midwestern-style, non-native plants."
While the neighborhood was inspired by towns such as Shaker Heights, Ohio, the idea to encourage residents to go all out with holiday decorations came from the west coast.
"This was inspired by a visit he made to Beverly Hills in the 1930s, where he saw a festival of lights."
Richards wanted the neighborhood brightly decorated during the holidays from the time it opened in 1949, so he donated many of the neighborhood's first lights and offered a $100 prize for the best display each year.
That prize would barely put a dent in the cost of today's Winterhaven light displays.
"Every year you have to replenish some lights," long-time resident Sean Bethel said. "They burn out, they break, you get frustrated and break them yourself. Every year it's a few hundred dollars here and there for lights and extension cords."
And that doesn't even count the cost of electricity.
Yes, contrary to the rumors, Winterhaven residents pay for the lights and the electricity they consume themselves.
"When you move in here, you move in knowing that you're going to decorate during the holidays," said Jeff Brown, who has helped his parents decorate their house for the past 50 years. "Because if you don't, you're going to stand out because everything is so bright and everything has lights on it."
Today, the Festival of Lights acts as a donor drive for the Community Food Bank of Southern Arizona. In 2013, it raised $18,000 and brought in 43,000 pounds of food.
The festival of lights runs through Saturday. Winterhaven is closed to traffic all nights except the final night.