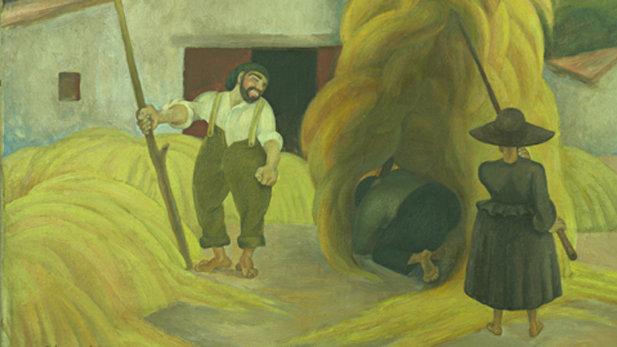 Diego Rivera, Cosecha de heno / Hay Harvest (detail), 1920, oil on canvas / Collection of the Kasser Mochary Art Foundation / © 2014 Banco de México Diego Rivera Frida Kahlo Museums Trust, Mexico, D.F. / Artists Rights Society (ARS), New York

Courtesy Tucson Museum of Art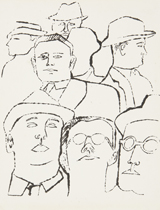 Andy Warhol, Heads of Men; also known as Group of Men, 1954, ink on paper / Collection of the Kasser Mochary Art Foundation / © 2014 The Andy Warhol Foundation for the Visual Arts, Inc. / Artists Rights Society (ARS), New York (PHOTO: Courtesy Tucson Museum of Art)
The Tucson Museum of Art has had record attendance for an exhibition of sculptures, canvases, and other media produced by a range of the 19th and 20th centuries most prestigious artists.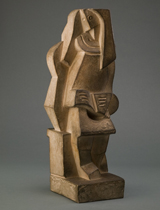 Jacques Lipchitz, Liseuse (Étude) / Reader (Study), 1919, terra cotta, 7/7 / Collection of the Kasser Mochary Art Foundation / © The Estate of Jacques Lipchitz, courtesy Marlborough Gallery, New York (PHOTO: Courtesy Tucson Museum of Art)
The Figure Examined: Masterworks from the Kasser - Mochary Art Foundation revolves around the art collection of Alexander and Elisabeth Kasser. In the political turmoil that preceded World War II, the Kassers founded a branch of the Swedish Red Cross in their native Hungary, and helped hundreds of people escape persecution.
When the Kassers and their children Michael and Mary immigrated to the United States in 1949, they brought with them a love of both classical and contemporary art.
To better understand what is on display in the exhibit, I spoke with Julie Sasse, the chief curator at The Tucson Museum of Art. I then had the opportunity to tour the galleries with the Kasser's son, I. Michael Kasser, an engineer, real estate developer, art collector and arts supporter who lives in Tucson.
In March, I. Michael Kasser was announced as the recipient of a 2015 Governor's Award for his dedication to funding and presenting the arts in Southern Arizona.
Listen:
The Figure Examined: Masterworks from the Kasser - Mochary Art Foundation will be on display at the Tucson Museum of Art until April 12th, 2015.
Here is some additional conversation with I. Michael Kasser about his family's history and their enduring love of art:
McLemore: How was Hungary represented at home for you growing up? Was it a proud piece of your parents' legacy?
Kasser: Oh yes, very much so. I speak Hungarian, not well but I still speak it and any opportunity I get to practice, I do.
Alfred Sisley, Paysage aux environs de Moret / Landscape near Moret (detail), 1880, oil on canvas / Collection of the Kasser Mochary Art Foundation (PHOTO: Courtesy Tucson Museum of Art)
But Hungary was taken over by the Communists so we didn't really go back there until after it was liberated, back in the mid 80's. But I have been back there several times, it's a beautiful country and I recommend it as a visitor.
My father and mother wanted to come to this country very badly. The war (World War II) stopped them from coming here, and after the war, which is another whole story as to how they got through that, we couldn't get in because we were immigrants. We had visitor papers and we had to go to Mexico. I always tell people that Mexico was very acogedor, which is embracing.
We lived there for four years and my father being an engineer got a job teaching at a university. I loved Mexico but my Dad was so determined to come to the United States that finally we were able to get papers to come here and we moved. For me it was a sad day because I had all my buddies there, I was a nine year old kid.
McLemore: I am curious about what influence this had on your family -- by living in places like Mexico, did your parents get excited by the local art?
Kasser: Oh yes and I got excited because I have a Pre-Colombian collection in my office which I exhibited at the U of A museum about four or five years ago. It was a very successful exhibit and Pre-Colombian is the main thing I collect.
My parents knew Europe, and they had a big collection of European art. At the end of their life, they spent half of their time in Europe and had an apartment in Vienna. The great opera, the concerts, that was their life as they got older. They were in their eighties.
McLemore: Were they helpful to you, or interested in your own collecting career when you began?"
Kasser: Not really. They went this way and I wanted to go that way, the other way. But I know a lot about the artists and I met the artists so something rubbed off no question.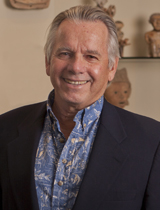 I. Michael Kasser
McLemore: Tell us something about what the Kasser Collection represents today, and what you think about its importance.
Kasser Well frankly, it's an excellent collection and I think it's a collection that has made an impact apparently here in Tucson where we haven't really had this kind of art.
From here, we are moving (the exhibition) to Tulsa, Oklahoma which is a sort of similar size metropolitan community. If you take this to New York City, there are dozens of this kind of collection over there. Well, maybe not dozens, but there are big collections and there are great museums with great collections.
It's an opportunity to move the collection and expose people to art that they otherwise wouldn't see. It's really appreciated which is the greatest thing, it is really appreciated by the people who see it which is our reward.
Transcription by Caitlin Dean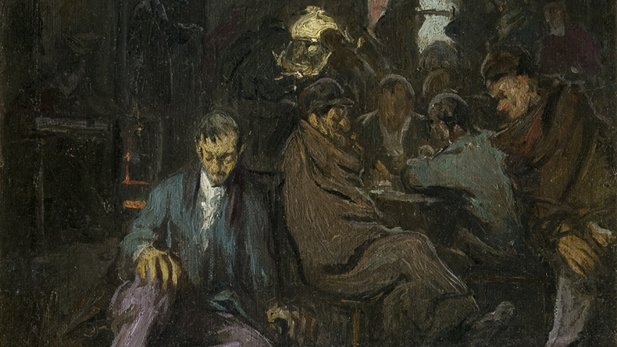 Pablo Picasso, Intérieur de taverne / Tavern Interior (detail), 1897–1898, oil on canvas / Collection of the Kasser Mochary Art Foundation / © 2014 Estate of Pablo Picasso / Artists Rights Society (ARS), New York

Courtesy Tucson Museum of Art