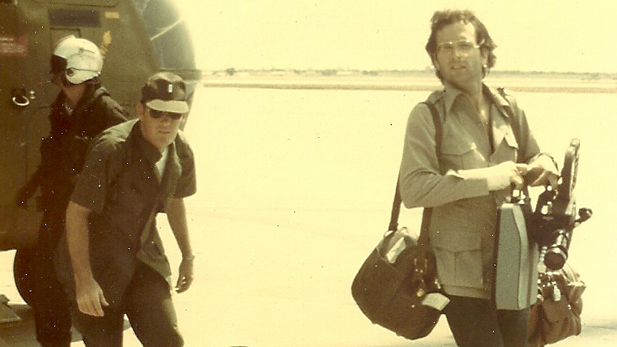 Photo courtesy: Jim Laurie
Listen
April 30 marked the 40 year anniversary of the fall of the capital of South Vietnam. It was called Saigon then, but immediately after the end of the war, the new government renamed it Ho Chi Minh City, in honor of the North Vietnamese president.
NBC News assigned correspondent Jim Laurie to cover the war's conclusion in Saigon, where U. S. military forces tried to evacuate thousands of South Vietnamese soldiers, officers and their families ahead of a feared bloodbath on the final day of the conflict.
"That was the end of the evacuation that had gone on for 24 hours from the American embassy," Laurie remembered. "And when that last helicopter left, crowds of people pushed their way up the stairs of the U. S. embassy and onto the roof."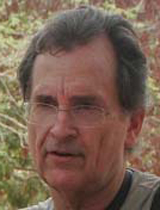 (PHOTO: Courtesy: Jim Laurie)
Laurie's colleague, cameraman Neal Davis, scrambled to the roof as well, and captured a crowd of people waiting for another helicopter, which never came.

"Down where I was, at street level," Laurie said, "An orgy of looting began. The Vietnamese had gathered around the embassy, some of them had come to try to escape, and they just besieged the embassy, and almost brick-by-brick, tore it apart."

Laurie found himself surrounded by Saigon residents, begging for him to help them get out of the city before the North Vietnamese arrived. But Laurie and Davis were among several dozen journalists who were assigned to stay in South Vietnam for more than three weeks after the war's end.
"On a very personal level, both Neal and I had just come out of Cambodia," Laurie recalls. "We had close friends that we left behind in Cambodia as the Khmer Rouge took over that country less than two weeks later. So we were emotionally motivated to stand by the local people in some way."
Many of the reporters did not witness the rounding up of former South Vietnamese soldiers the Americans left behind, along with people who had diplomatic or business ties with the United States. Those Vietnamese citizens, among hundreds of others, were incarcerated in what refugees called "re-education camps" after the war.
"Many of the Vietnamese that were left felt that we had betrayed them and left them to cope with the Communist forces," says Laurie. "My frustration was that there was nothing I could do. "
Laurie ended his Vietnam assignment several weeks later. He currently works as a consultant to broadcast and digital news organizations in Asia.