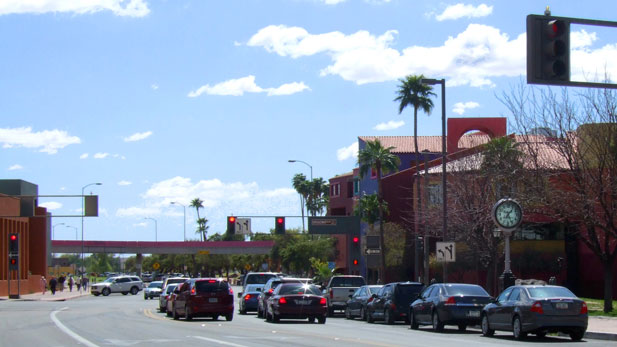 Traffic in downtown Tucson.

AZPM Staff
Listen:
The Rio Nuevo Board will discuss potential investment opportunities along Broadway Boulevard at a meeting tomorrow morning.
If the project is approved, Rio Nuevo will invest in some of the buildings in that area in an effort to preserve and revitalize what is known as "Sunshine Mile," or the section of Broadway Boulevard between Euclid Avenue and Country Club Road.
The project is meant to draw more foot traffic and sales in the area, like recent improvements to downtown Tucson have.
Merchants in the area are lobbying for the neighborhood to be named a historical site.
The Rio Nuevo Board meeting will start at 10 a.m. in the Graham and Greenlee Rooms at the Tucson Convention Center, 260 S. Church Ave.