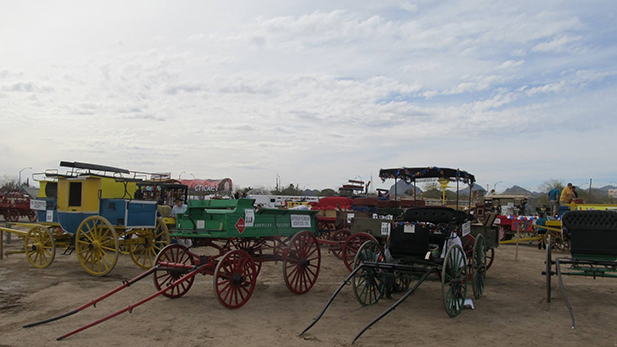 Some of the horse-drawn vehicles in the 2014 Tucson Rodeo Parade, including fringe-top surreys.

Tucson Rodeo Parade via Facebook
The Tucson Rodeo Parade dates back to 1925, and since then, the organizing committee has amassed a collection of horse-drawn vehicles. They're on display at the Rodeo Parade Museum.
Several of the collection's fringe-top surreys appeared in the movie version of the Rodgers and Hammerstein musical "Oklahoma!", which wasn't filmed in Oklahoma, but right here in Southern Arizona.
The museum also features remakes of what Tucson looked like in the year 1900, one of the first airport hangars in the country and antique miniature railroads.
The museum is located in the rodeo grounds. It's open from 9.30 a.m. until 3.30 p.m. Monday through Saturday until April 8th.
Click here for more information.