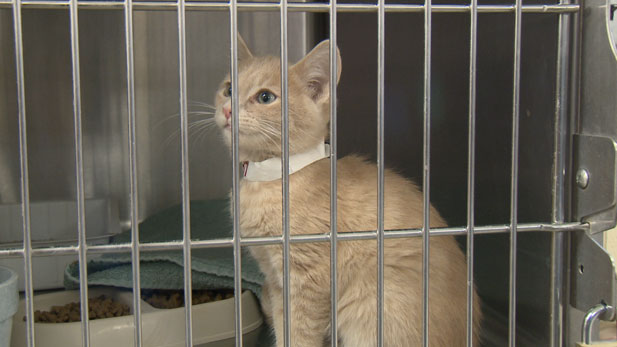 AZPM
The Humane Society of Southern Arizona and Pima Animal Care Center are set to break a record this year in the number of unwanted cats and dogs that are being turned in by local residents, so local groups are trying to increase adoptions and funds.
"Last year our total intake was just under 28,000. In the first few months of this year we're already at 900 more animals taken in than during this period last year so if this keeps up we probably have a potential to hit 30,000 animals plus coming into just our shelters," says Justin Gallick, an animal care advocate at Pima Animal Care Center.
Employees say the sluggish economy is one of the reasons for the number of animals. People who go into foreclosures often have to move into smaller homes, such as apartments, where animals are frequently not welcome. Sara Gromley is the public relations assistant at the Humane Society, which has been at capacity for a very long time. "You can directly see the connections with economic hardships that families are facing across the country and shelters just being inundated with pets where people unfortunately just have no other option," Gromley says.
So local shelters are resorting to various programs like occasional reduced adoption fees, increasing partnerships with volunteers, and even opening up a thrift store in the case of the Humane Society. It is presently working on a property on Speedway near Craycroft that is scheduled to open later this year and it already has two stores at La Encantada and Park Place malls.
Supporters say there are hundreds of options if you're interested in a cat or a dog and have the space, the time, the funds and the patience and dedication to add a new member to your family. "We have so many pets right now that deserve and need homes and will make wonderful companions," Gromley says.
Humane Society of Southern Arizona
We visit the Humane Society of Southern Arizona and Pima Animal Care Center where we see some of the animals and talk to employees about some of the programs they have to try to find homes for the cats and dogs. (VIDEO: AZPM)