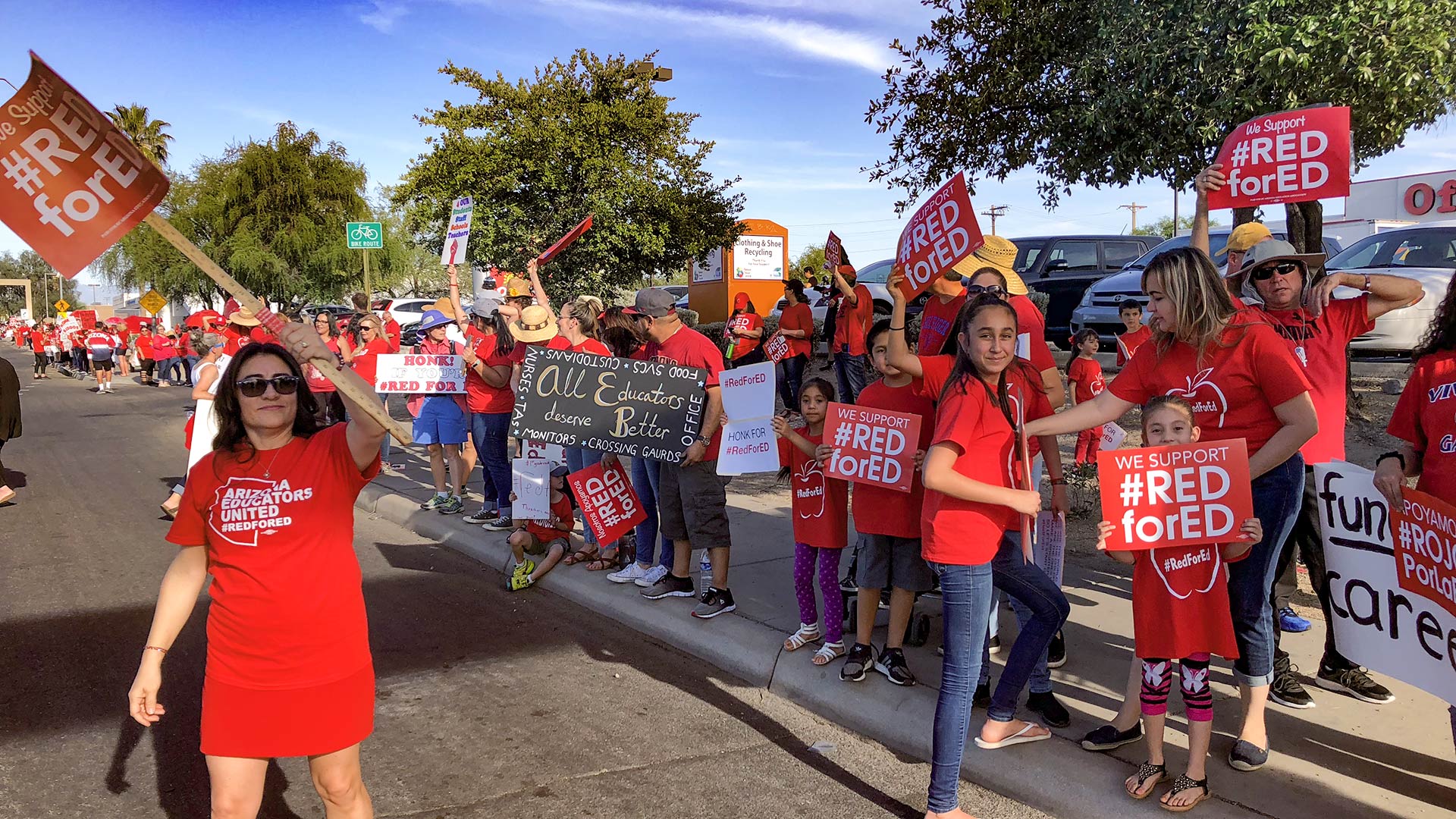 Demonstrators gather on Broadway in Tucson April 25, 2018 to protest for more state education funding, one day before a walkout that closed schools all over the state.
Brandon Mejia, AZPM
A couple of weeks ago I sat down with Hank Stephenson, editor of the Yellow Sheet Report and former education reporter for the Arizona Daily Star. We talked about the state of education in Arizona, and the biggest education stories in 2018.
Candace Manriquez Wrenn: We have a chronic teacher a shortage here in Arizona. It's been debilitating for a long time and it set off a movement, the #RedforEd movement. Can you talk about the inception of that movement and what happened over that time?
Hank Stephenson: Essentially, it started with a Facebook group, then they said, "Hey, let's wear red on Wednesdays to show our support for, you know, raising teacher pay."
And that caught on more and more, and over the coming weeks it was, "Hey, let's stand outside of our schools on Wednesday wearing red. We'll call them walk-ins." Because they would go out there before school, stand on the street, hold their signs. wear their red, and try to get some members of the community parents to come out there before school.
They wanted a 20 percent raise, which would put teachers somewhere around $48,000, which is about national average. Before that, they'd been making almost $10,000 less than that on average.
There were a lot of demands on the #RedforEd movement, and the only one that they really got out of the politicians was the 20 percent teacher raise.
Manriquez Wrenn: Would you call the movement a success?
Stephenson: They didn't get all of their demands, but I think that the #RedforEd movement really played into this year's election. We got a Democratic superintendent of public instruction and teachers got a 20 percent raise.
We've still got a lot of problems in our public education system — a lot of things, frankly, that can't be solved by money or at least won't immediately be solved by money.
Manriquez Wrenn: Like what?
Stephenson: Test scores. You can make the argument that without properly funding our education system, we're never going to get great test scores.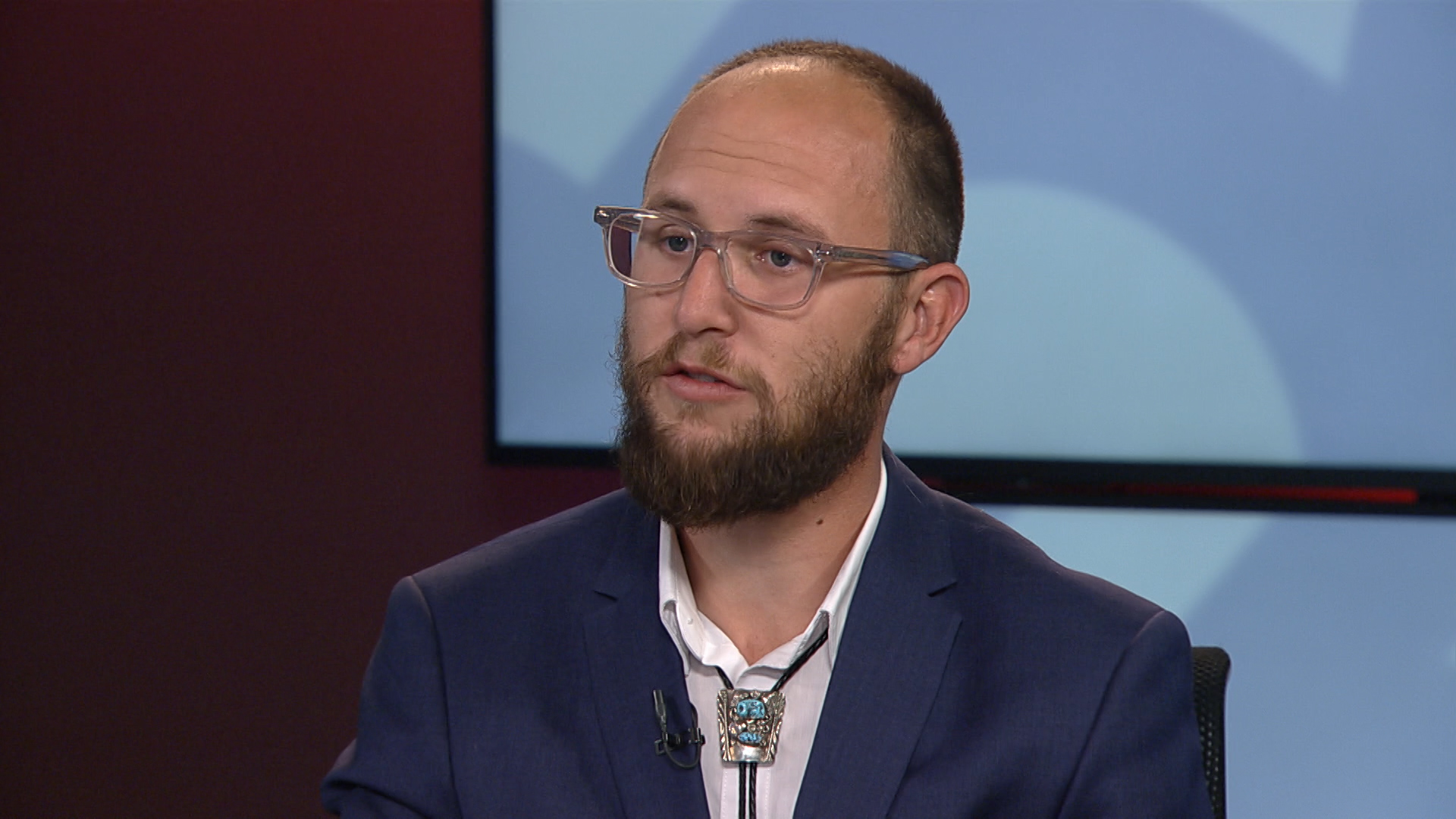 Hank Stephenson, editor of the Yellow Sheet Report. (PHOTO: AZPM)
Manriquez Wrenn: What does it mean to fund education in a way that helps students in the long run?
Stephenson: That's a huge question. One thing is, you've got to have enough money to keep teachers in the classroom and to incentivize people going into the teaching profession.
Manriquez Wrenn: What are the biggest challenges TUSD is facing and Arizona as a whole, education wise?
Stephenson: You know, teacher pay is a big factor, but then there's things like capital funding. A lot of our schools — especially here in Tucson Unified School District, which is a very old school district — a lot of our schools are old. And some of them are crumbling and need basic maintenance and repair. And they've been relying on, as all school districts have, kind of bonds, overrides, local money to do that. But, I think if we want to make a serious investment in our education system, the state has to step up.
At the TUSD level, the number one thing hurting Tucson Unified School District is declining enrollment. They have been losing 1 to 2 percent of their students per year, which doesn't take long to get down to zero students. They declined again this year, and it's important to note that state funding is tied to pupils. So, the fewer students you have, the less money you have. And every year, they've seen, not only a decline in students, but a decline in funding.
Manriquez Wrenn: Where are these students going?
Stephenson: Clearly, a lot of them are going to charter schools. There's been an increase in the last decade in charter schools.
You've also got very successful schools districts like Vail. You may be willing if you're able to drive out to Vail to drop them off. And, in Arizona you can do that because we have open enrollment. You can basically pick where your student goes to school. Catalina Foothills on the north side is it another one. And those school districts have, generally speaking, been growing.
Manriquez Wrenn: Hank Stephenson, thank you.
Stephenson: Thank you