Demonstrators carry signs at the 2019 Tucson Women's March.
Nick O'Gara/AZPM
People from all over Southern Arizona gathered in downtown Tucson for the Women's March on Sunday, and march organizers on social media estimated crowds in the thousands.
In Tucson a group of teenage girls and women who play toka led the march, a sport played only by women of the Tohono O'odham Nation and its sister tribes. They were followed by their families and other indigenous community members who then led the larger crowd of other Southern Arizonans. Once the march began, the line of people snaked passed several city blocks.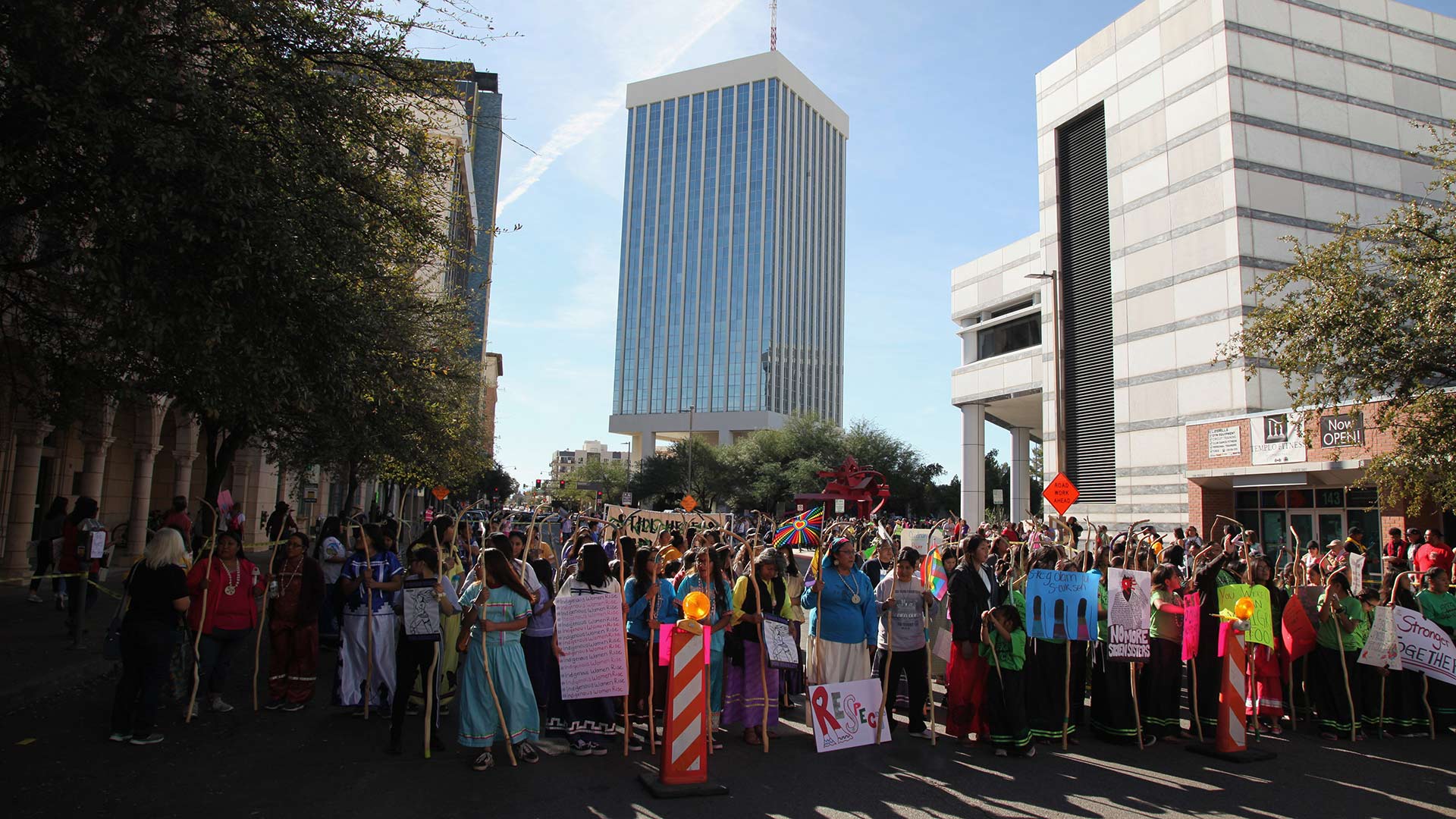 Players of the traditional Tohono O'odham game toka line up to start the 2019 Tucson Women's March in downtown, Jan. 20.
Nick O'Gara/AZPM
One of those players was the daughter of Elisa Cazares, who said she marched to protest the border wall between Mexico and the United States.
"I'm from Pisinemo. I'm one of the closest to Mexico, and my family is in Mexico and in the United States. We don't need a wall to separate the families," said Cazares.
Signs protesting the border wall were among the most popular at the march.
Many of the people who came to Jácome Plaza to celebrate women or express their beliefs held signs with phrases that demanded equality, justice and social change.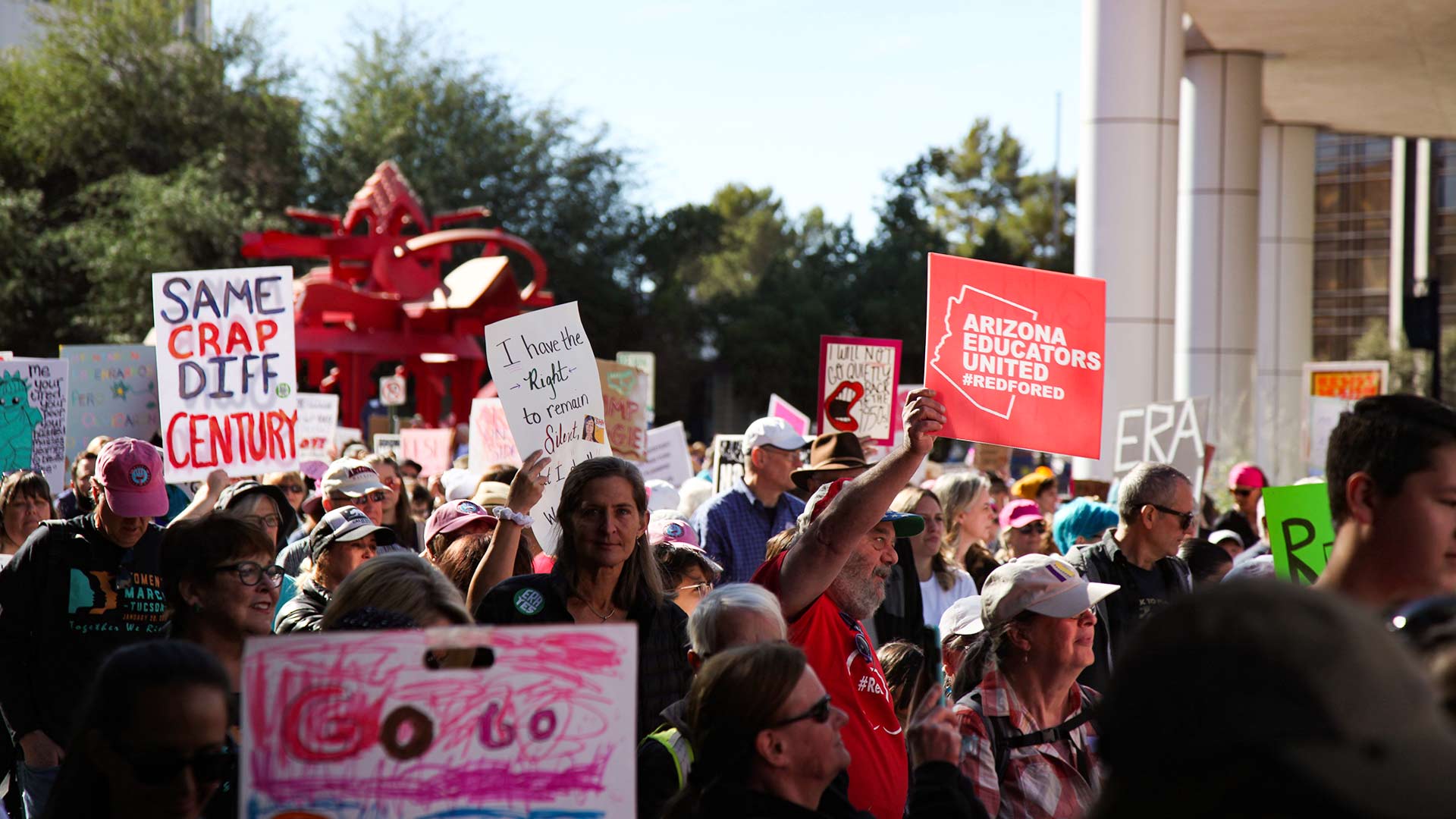 Demonstrators carried a variety of signs at the 2019 Tucson Women's March.
Nick O'Gara/AZPM
Tani Hubbard marched to advocate for the safety of women. She said her sign referenced a 2018 study from the Thomson Reuters Foundation, which reported that the United States was among one of the 10 most dangerous countries for women in the world. According to the report, the United States tied with Syria for third place when it comes to high rates of sexual violence.
"I think it's just unbelievable in 2019 that we're saying this in the United States of America. We have a crisis here for women here in our country. It's not a safe place," said Hubbard.
Organizers of the march said they tried to include women from all backgrounds, but that message did not resonate with everyone.
"I was hemming and hawing whether I was gonna come or not. I was actually told by a lot of my African American friends not to march today — that this was a white women's march. It had nothing to do with me as an African American woman, so I find that I am maybe one, two, African Americans out here," said Denise Hawthorn-Hall.
Hawthorn-Hall said she decided to march to support all women, since women — of all races — had died for her right to vote.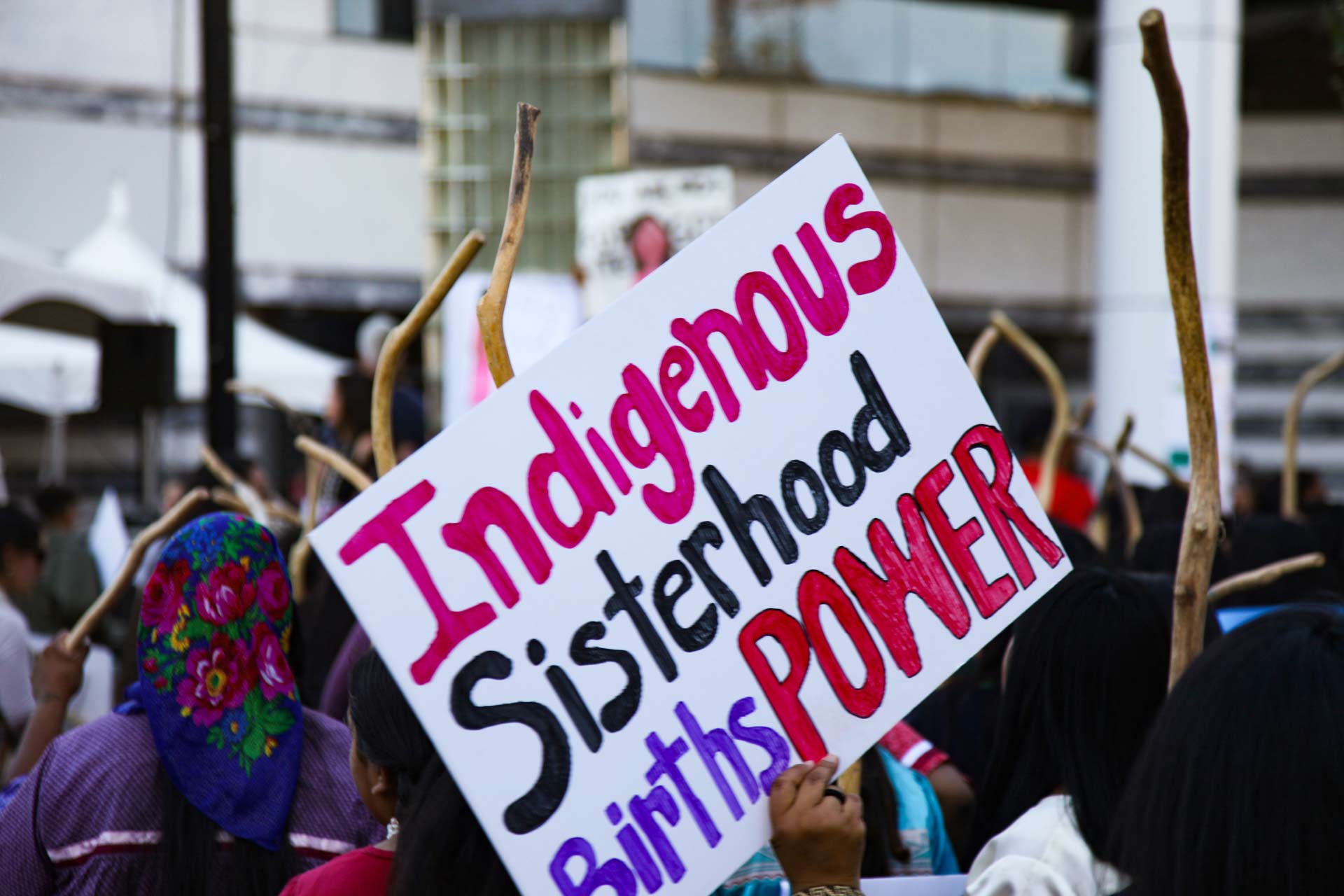 The 2019 Tucson Women's March was led by indigenous women.
Nick O'Gara/AZPM
The crowd included women, men and children of all ages and backgrounds.
Though the crowd was mainly women, there were men tucked into many of the groups of female marchers. Russell McSpadden said he wanted to march to show his son that women deserve to be treated as equals.
"In particular I'm marching for women's rights, but I'm also marching so my son sees these sort of gatherings, and learns at an early age about the gender politics that go on in this country," said McSpadden.
Other people gathered in the plaza today to honor the political struggles their parents and grandparents went through. Amanda Hamilton said she was marching to continue the line of politically active women in her family.
"We're not gonna to do what we need to do, if we don't stick together as women. My grandmother fought 60 years ago for the rights we're fighting for today, and that's ridiculous. So until we are actually heard, I'm going to speak," said Hamilton.
Demonstrators gathered in Jácome Plaza downtown for the Tucson Women's March.
Nick O'Gara/AZPM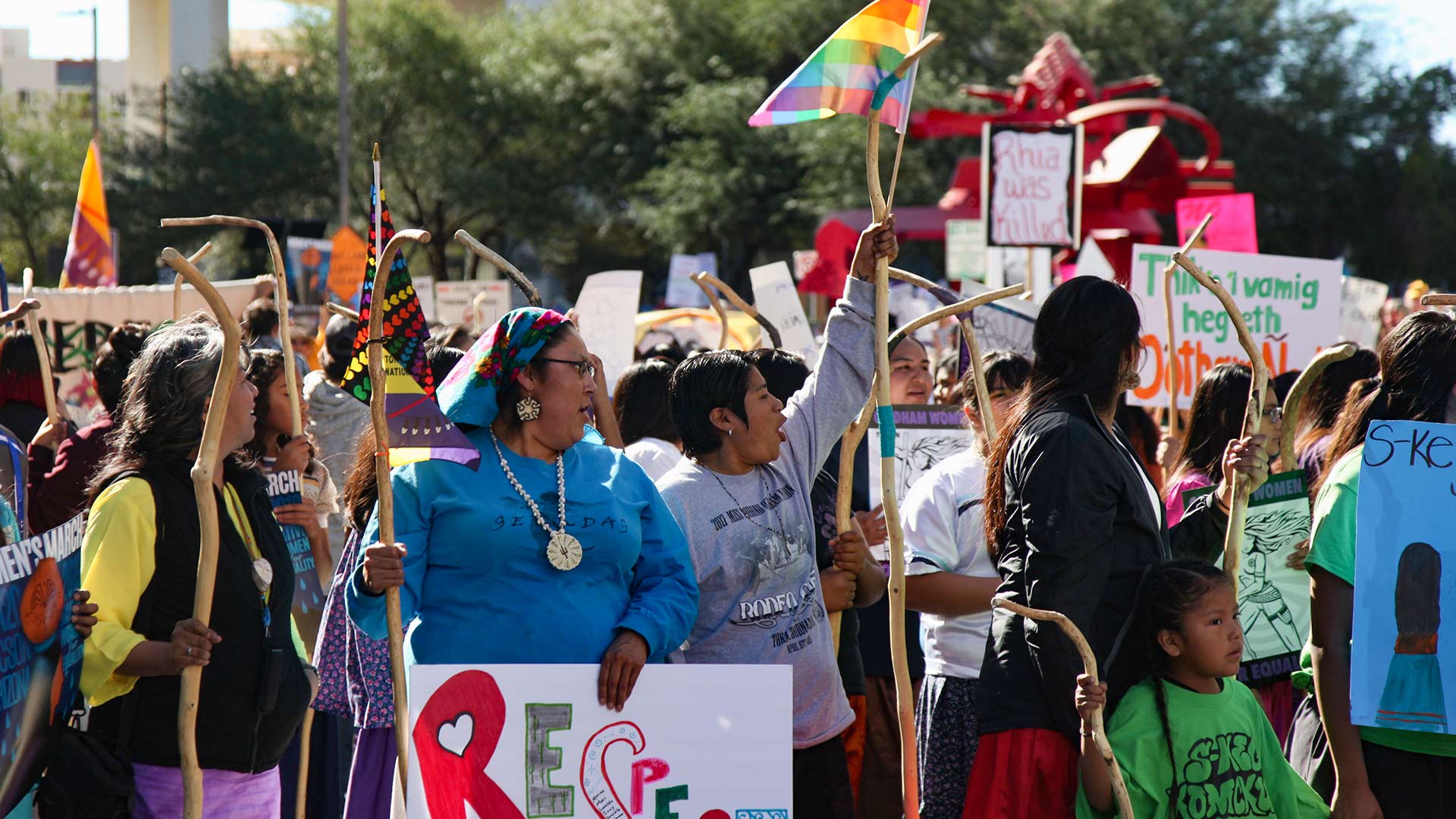 Toka players lined up to start the march.
Nick O'Gara/AZPM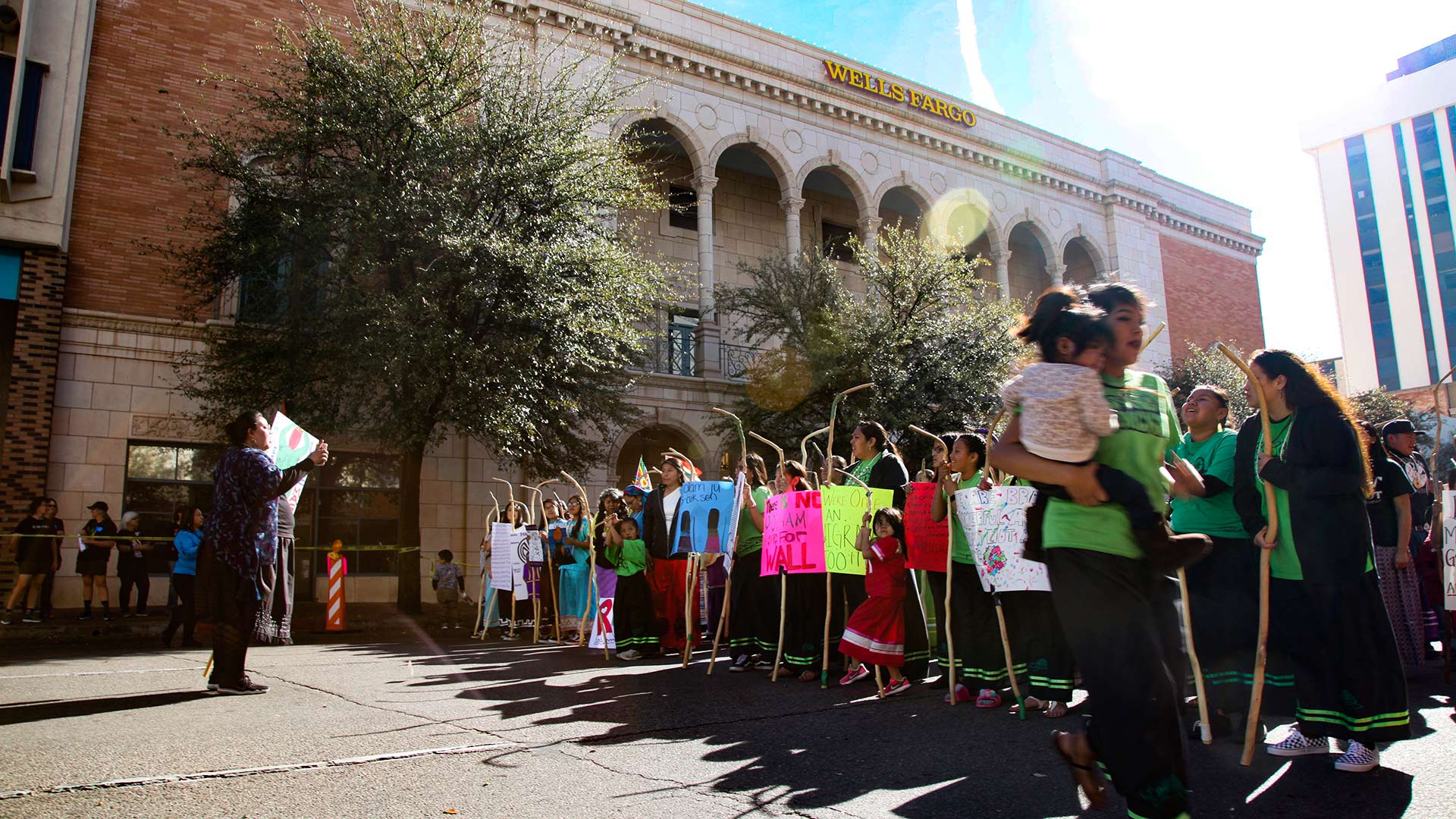 Toka players prepare to begin the 2019 Tucson Women's March, led by indigenous women.
Nick O'Gara/AZPM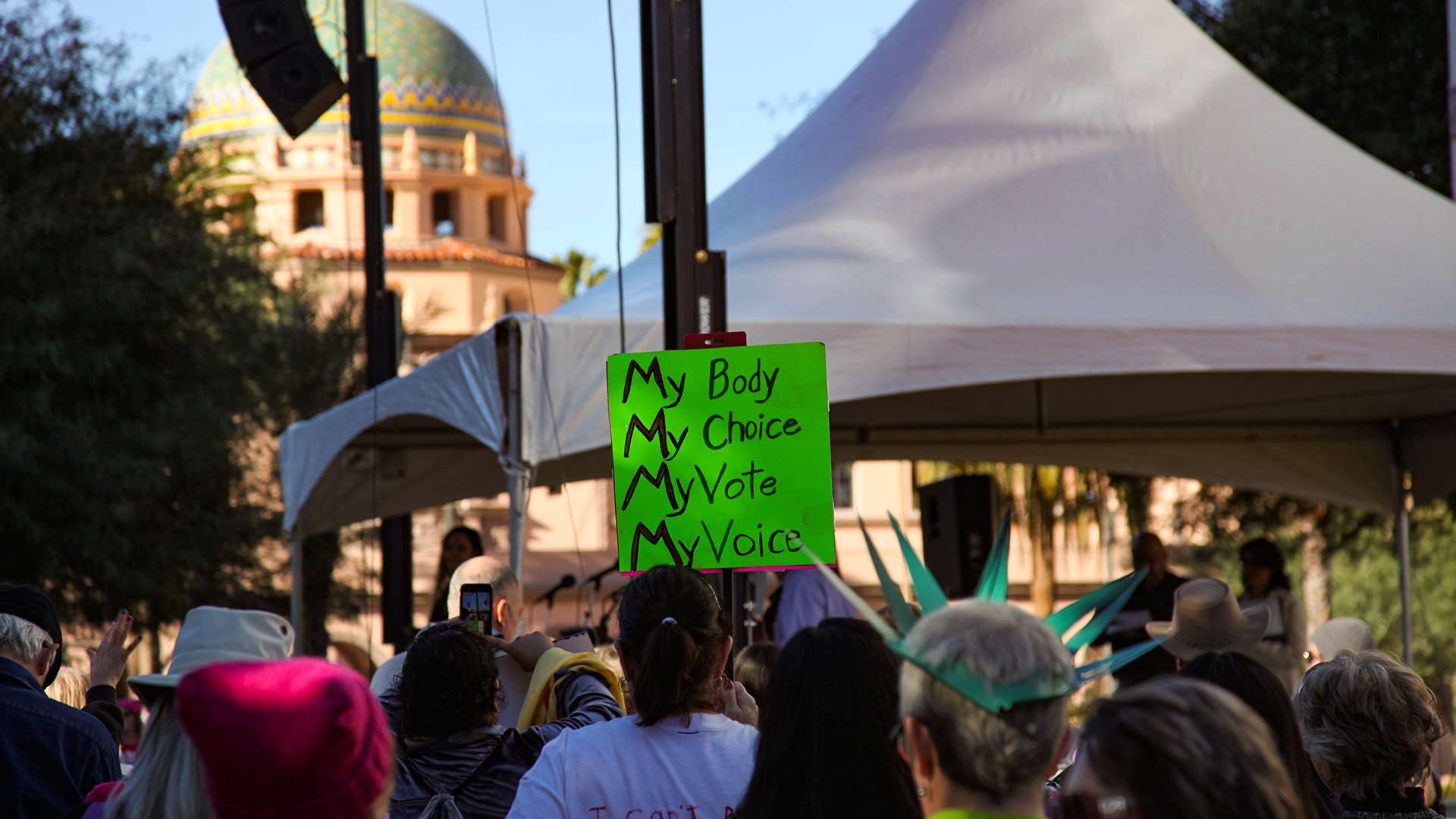 Demonstrators listen to opening speeches at Jacome Plaza in downtown Tucson for the 2019 Women's March, Jan. 20.
Nick O'Gara/AZPM