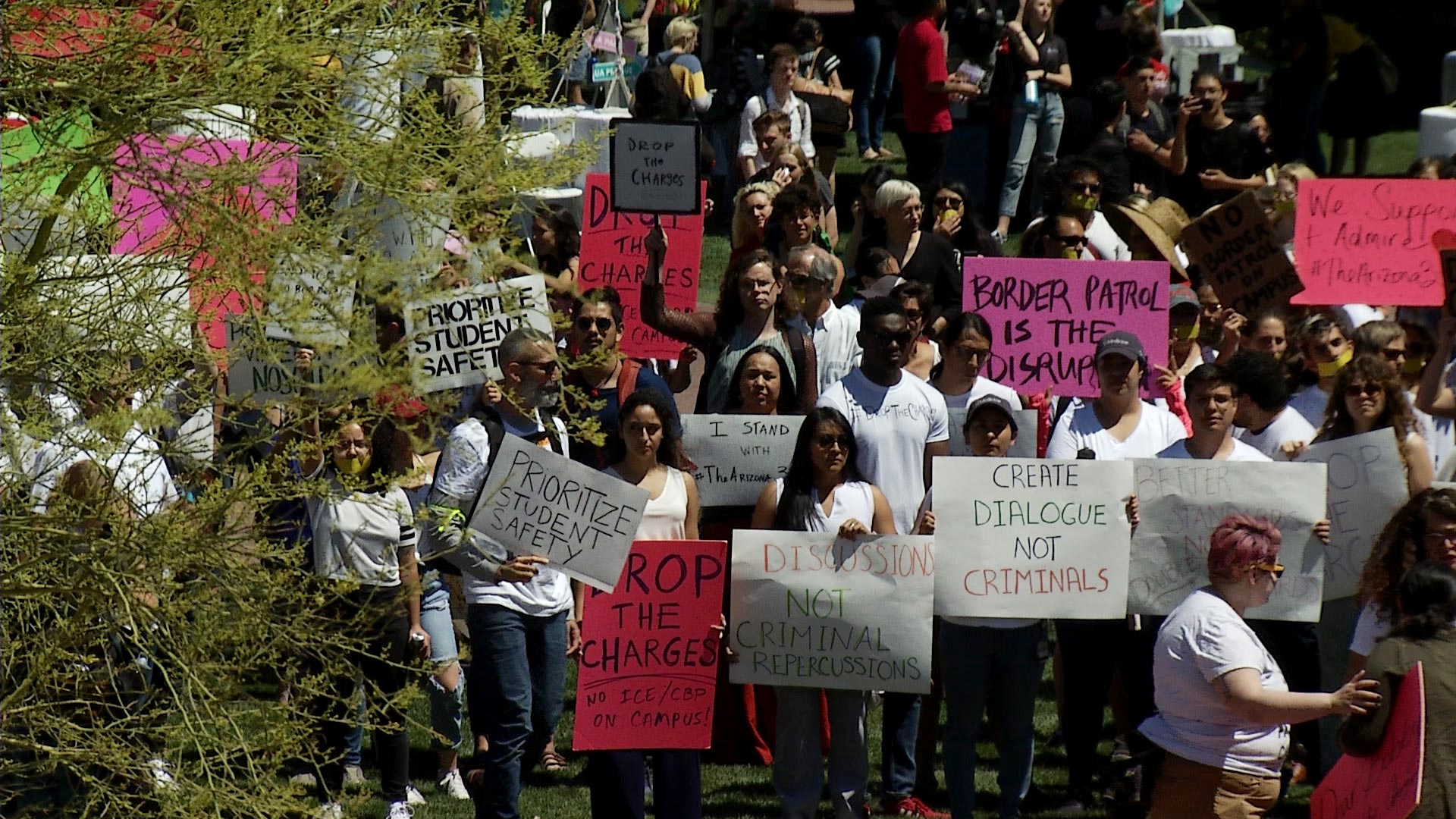 Protesters gather in front of Old Main at the University of Arizona on April 10, 2019. They were demonstrating in support of three students cited for protesting a presentation given in a classroom by Border Patrol agents in March.
Robert Lindberg/AZPM Staff
Charges were dismissed against three students involved in a protest of U.S. Border Patrol agents at the University of Arizona that was captured on video.
Amelia Cramer of the Pima County Attorney's Office says the misdemeanor charges were dismissed Friday at the request of prosecutors after they learned the university will conduct an administrative investigation into the March 19 protest in Tucson.
A criminology class invited Border Patrol agents to speak last month. The agents showed up in full uniform and were armed. Three student protesters disrupted the agents' presentation and were issued citations by the UA police department. The charges against the protesters made news across the country and sparked a series of on-campus demonstrations, urging university administrators to drop the charges.

Cramer says the students could face punishments if they are found to have violated the university's code of conduct.
The video of the incident shows a student protester repeatedly referring to the Border Patrol as the "murder patrol."
The three students said in a statement Monday that they want an apology from UA President Robert Robbins, "and a promise that he will never again jeopardize the safety or free speech of students in service to Border Patrol."
A handful of Republican state legislators released a statement Tuesday morning criticizing the county attorney's decision to drop the charges. They said they support the University's action against the protesting students who disrupted classes on campus. They also called for the state Attorney General to review the incident.
The incident also prompted a debate about free speech on campus, which will be addressed in a campus-wide forum tomorrow at 9 a.m. in the ballroom of the Student Union Memorial Center. That event will also be livestreamed.