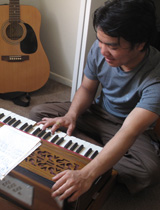 Jash Ranamunger plays the harmonium (PHOTO: Bria Dolnick)
The New Americans series is written, recorded and produced by Bria Dolnick.
Jash Ranamunger is just one of the 1,000 plus refugees who resettle in Tucson every year.
Forced to leave Bhutan when he was young, Jash grew up in refugee camps in Nepal. When he was granted admission to the U.S., he took his instruments with him.
Independent radio producer Bria Dolnick asked Jash to share his thoughts about his cultural transition, including the influence it has had on the music he brought with him from Bhutan.
Who is Bria Dolnick?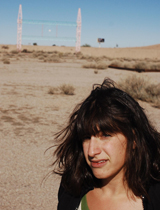 Bria Dolnick currently works as a refugee/school liaison for the Arizona Refugee Resettlement Program, and she is a graduate student in the University of Arizona's Language, Reading, and Culture department. She learned much about making audio documentaries studying at Duke University's Center for Documentary Studies, interning at Chicago Public Radio, and tinkering around a bunch. Bria grew up in Chicago and studied political science at Beloit College. She currently lives in Tucson with her boyfriend, cat, chickens, and honey bees. You can listen to some of her other stories at prx.org.