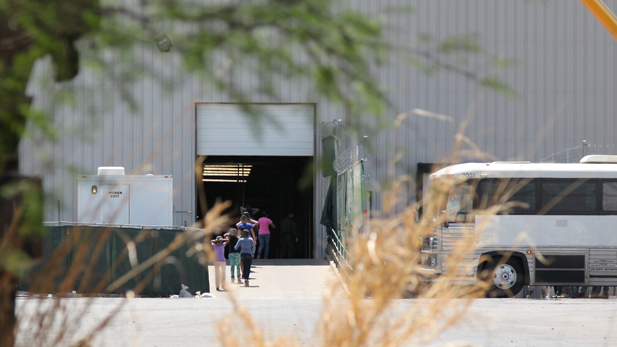 Immigrant children at Border Patrol's Nogales warehouse where they were processed and detained in June 2014.

Fernanda Echavarri, AZPM
A federal court order mandating an end to the Trump administration's practice of holding migrant children in hotels goes into effect this week.
Last month a monitor found that by July, nearly 600 unaccompanied minors were being held in hotels in cities like El Paso, Texas, McAllen, Texas and Phoenix, Arizona. The children were in the custody of Department of Homeland Security contractors and awaiting removal flights to their countries of origin.
Administration officials argue the practice is a safeguard against the spread of COVID-19. But on Friday, Los Angeles District Court Judge Dolly Gee ruled the practice violated the Flores settlement. The result of a 1997 class action lawsuit, the agreement outlines care standards for minors taken into immigration custody.

An ICE spokesperson said the agency was aware of the ruling and would "evaluate any decision received from the court," but declined to comment further on ongoing litigation.
Laura Barrera, an attorney with the legal aid group Florence Immigrant and Refugee Rights Project, said efforts to provide legal aid to children held in Arizona hotels is hampered by a lack of information.
"Once we find out about a kid in this situation it seems that we are very much able to help them," she said. "The biggest issue is just, we need to find out the name of the kid and where they are to be able to advocate for them. So that lack of information really is the biggest barrier."
Barrera said she and other lawyers have struggled to get basic information like the hotel location, the length of a child's stay, and the status of their removal proceedings.
The children are some of tens of thousands of migrants entered into expedited removals from the U.S. under a federal health code called Title 42. The Department of Homeland Security enacted the code months ago to allows U.S. Border Patrol agents to expel nearly all migrants encountered along the border without normal immigration processing.
Friday's ruling said, while hotels could still be used for short-term stays, the government had until September 15th to end the long-term practice. It mandated DHS instead reenact its normal policy of sending children to shelters run by the Office of Refugee Resettlement, an agency run by the Department of Health and Human Services.
At those shelters, Barrera said children have access to legal aid, education and the opportunity to reunite with U.S. sponsors. Unlike the hotel program, she said Department of Health and Human Services facilities have more oversight capacity to ensure children are given adequate protection.
"They're not being allowed to go through the regular process of being able to fight their case and be in an environment that's more suitable for children and hopefully be reunified with their family," she said. "Kids who have been coming to the United States recently have been largely denied all of those opportunities."
Barrera said the ruling a step ensure those opportunities are restored. But legal advocates worry the ruling's stipulations will not be carried out by agency officials by the deadline.