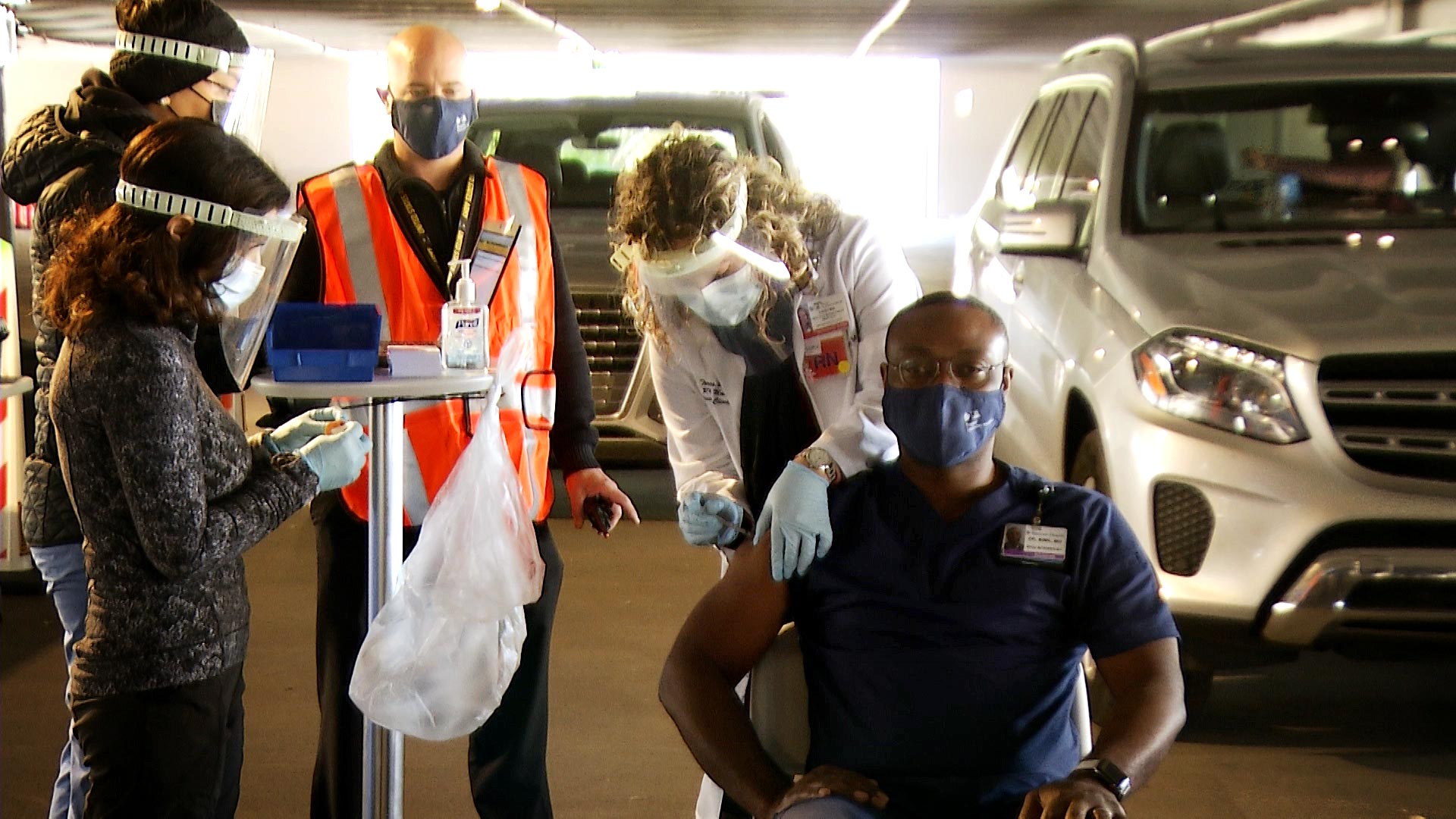 Dr. Christian Bime, medical director of the ICU at Banner - UMC Tucson, receives a dose of the COVID-19 vaccine on Dec. 17, 2020.
Tony DiRusso/AZPM Staff
This article has been updated with new information.
Tucson Medical Center has fixed a computer glitch that temporarily stopped some people from making their COVID-19 vaccine appointments.
The glitch led to a noticeable amount of unclaimed appointment, said Francisco Garcia, the Pima County's chief medical officer. In an effort not to waste the time, the county sent invitations to law enforcement officers who still needed to be vaccinated. Now, the original glitch has been fixed.
"All those people who got links, those links now work, and they can go into the system and make appointments," Garcia said. "Nobody lost their place in line."
He said the county's getting another 29,000 COVID-19 vaccine doses from the state for next week, bringing the predicted total for in hand doses for next week up to 77,000. He estimated that from that total the "vast majority" will be new appointments.
A county spokesperson, Anthony Gimino, emphasized the in hand total changes daily and is a "moving target."
"We are grateful, but I have to tell you that this is far insufficient for what we need," Garcia said.
He said he wants Pima County to get 100,000 vaccines each week.
Since December, the county's received approximately 107,000 doses. It's administered an estimate of 55% or more than 59,000 doses. Garcia said about 22% of those already vaccinated in the county are over the age of 70.
Garcia advocated that vaccine doses be allotted based on county population and by his estimate that would mean Pima County would receive 15% of the state's supply, which he said falls short of their current allocation.
He said that the county is also conducting a "record number" of COVID-19 tests. According to the Arizona Department of Health Services, 3,358 tests were reported Friday, along with 858 new COVID-19 cases throughout the county.
"If we do not get some relief from the federal government — if we do not get some relief and some assistance for the state — we may need to make some very hard choices in terms of vaccine versus testing," Garcia said. "Those choices have not been made today, but I will advocate every single day for investing our resources into the vaccine effort."