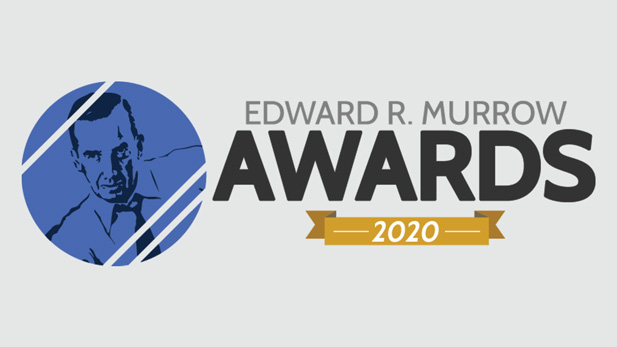 Arizona Public Media received two 2020 Regional Edward R. Murrow Awards for Multimedia and Feature Reporting.
May 12, 2020 - TUCSON, AZ - The Radio Television Digital News Association (RTDNA) announced today that Arizona Public Media (AZPM) has received two regional Edward R. Murrow Awards in the categories of Multimedia and Feature Reporting. The RTDNA has honored outstanding achievements in electronic journalism with the Edward R. Murrow Awards since 1971.
Regional Murrow Awards are presented to small and large radio, television, and digital outlets based on 14 geographic regions. AZPM received multiple awards in Region 3, which includes all TV and radio stations in Wyoming, Arizona, Colorado, and New Mexico.
Award recipients demonstrate the spirit of excellence that Murrow set as a standard for the broadcast and digital journalism profession.
"The Murrow Awards are the embodiment of the values, principles and standards set forth by Edward R. Murrow," said Jack Gibson, AZPM CEO. "To have our body of work recognized is an honor. These awards reinforce our journalistic mission that AZPM's reporting puts public interest first and provides a catalyst for public discussion."
The Edward R. Murrow Awards are presented to news organizations based on the specific body of work submitted. AZPM received Regional Murrow Awards in the following categories:
Region 3
Multimedia
news.azpm.org
Ariana Brocious, Christopher Conover, Colleen Greer, Nick O'Gara, Jake Steinberg, Jessica Stephens, A.C. Swedbergh
AZPM's online newsroom features carefully chosen video, audio, interactive maps, guides, photos, and text that "informs and educates the public and enhances public debate about important daily issues". The award-winning highlights include the following features: Arizona's "Stupid Motorist Law"; the U.S. Senate race with a zip code money map; an interactive voting guide for the Tucson Mayor and City Council election; a revealing look at pedestrian fatalities; and the 2019 sanctuary city and mayoral election by neighborhood.

Small Market Television
Feature Reporting
What Remains
Vanessa Barchfield, Nate Huffman
The bodies of nearly 3,000 undocumented people have been found in the border region of Southern Arizona since the beginning of the century. Bruce Anderson and his small team of forensics anthropologists at the Pima County Office of the Medical Examiner have been working to identify the dead.
AZPM won four Regional Murrow Awards in 2019 and seven in 2018. Also in 2019, AZPM received its second National Murrow Award in the feature reporting category for Where Dreams Die. The radio news documentary Divided by Law won a National Murrow Award in 2016.
Regional winners will advance to the National Edward R. Murrow Awards competition. National Murrow Awards, including those for network news organizations, large digital news organizations, and for students, will be announced in June. The National Murrow Awards are presented at the RTDNA Edward R. Murrow Awards Gala at Gotham Hall in New York City in October.
---
About Arizona Public Media:
Arizona Public Media (AZPM) is an editorially independent, nonprofit public service of the University of Arizona (UA) and provides three television program services (PBS 6, PBS 6 Plus, and PBS Kids), four radio services (NPR 89.1, Classical 90.5, Jazz 89.1 HD2 and the BBC World Service) and a variety of online program offerings. AZPM is funded by the generous support of annual and sustaining members, the business community through program underwriting, fee-for-service production activities, the Corporation for Public Broadcasting, and direct and in-kind support from UA. Arizona Public Media® and AZPM® are registered trademarks of the Arizona Board of Regents, which holds the FCC broadcast licenses for all AZPM stations for the benefit of the University of Arizona. More information about AZPM, including program schedules and Video-on-Demand offerings, can be found online at azpm.org.
About RTDNA:
RTDNA is the world's largest professional organization devoted exclusively to broadcast and digital journalism. Founded as a grassroots organization in 1946, RTDNA works to protect the rights of journalists throughout the country, promotes ethical standards in the industry, provides members with training and education and honors outstanding work in the profession through the Edward R. Murrow Awards.