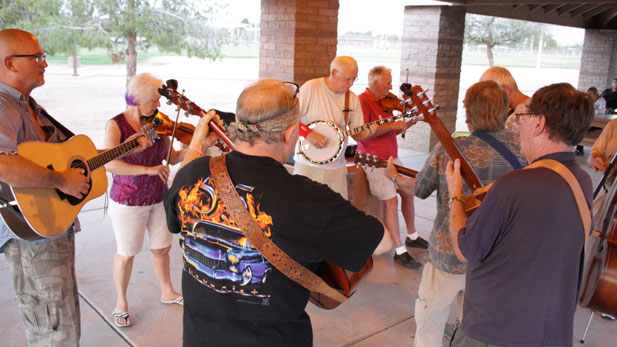 Listen:
On a Sunday night in early August the sounds of banjos, guitars, fiddles and singing were heard throughout Udall Park.
The lyrics conveyed sorrow, longing and regret. They told stories of times past.
A group of about 10 casually dressed people was responsible for the noise. They were playing blue grass, a traditional style of American music.
These musicians belong to the Desert Blue Grass Association, whose mission is to promote bluegrass music in southern Arizona and teach people to play it.
Orval 'Pete' Hamman, a retired trained conductor and David VanGelder, a self-described computer guy and a photographer, both play guitar and sing.
Hamman said his father was a musician who played on the radio in Fort Wayne, Ind.
"He brought home a guitar one night and handed it to me and a little book and says, there are the cords; learn them," he said. "And he played mandolin and accordion, guitar, piano and a stick and a string if you handed it to him. He could make music on it."
VanGelder said he remembers listening to blue grass when he was a toddler.
"My dad used to turn the radio to the Saturday night barn dance in Wheeling, West Virginia," he said. "I was in a rocking chair back then, just a little boy about three or four. I remember that really well."
VanGelder and Hamman said blue grass is the food that fills their hearts and lifts their souls.
Both of these Tucsonans participate in community jam sessions hosted by the DBA. The organization puts on free jam sessions throughout Pima County that are open to the public.
Four years ago, Hamman found out about the organization through his son-in-law. He said he loves to come out to the session to play his guitar and see his friends.
"Well because you can be a non-talent like me or be somebody like Jeff or Mike over there that can really pick," he said "You know three cords and you can play. You can sit in the sessions and do what you want to do. You know, just kind of goof-off and have a good time."
The Desert Blue Grass Association was founded in 1995. More than 200 families now belong to the organization that puts on a two-day festival in the fall at the AVA Amphitheater showcasing local and national bands. The association also offers free classes on Monday nights were people can learn to play a traditional blue grass instrument like the mandolin, guitar, bass, fiddle, banjo, or autoharp.
VanGelder said for him the sessions are a creative outlet.
"I have been participating for a year and now we have a group that meets at my home on Wednesday nights and I never sleep so well as after two hours of blue grass in my own living room," he said.
Hamman said the sessions give him an excuse to get out of doing dishes at home and a chance to blow off some steam from everyday life.
"I try [to sing at the sessions]," he said "Sometimes they put up with me and sometimes they don't, just depends on my song selection. You know, they don't want to hear Waylon Jennings or Toby Keith. They want to hear blue grass."
The association lists information for its jam sessions and classes on it website at desertbluegrass.org.