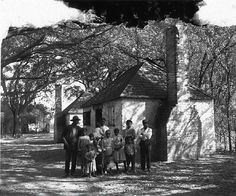 Courtesy: DiscoverFreedmen.org
Listen:
A new genealogy program is helping African-Americans meet their ancestors.

FamilySearch, which is sponsored by The Church of Jesus Christ of Latter Day Saints, announced a nationwide volunteer indexing effort Friday.

Friday marks the 150th anniversary of Juneteenth, or Emancipation Day. It's the holiday that recalls when African Americans in Texas learned about the end of slavery in the Confederate South.

The LDS Institute of Religion in Tucson was one of several locations around the country receiving the announcement during a news conference.
"A lot of people can trace their ancestors back to the pioneer days. For me, it is very hard for any blacks to trace our ancestors back, " said Junious Ross of Tucson, who has used the FamilySearch registry to discover his own family history.
"It's lineage," said Tucson resident MaRico Tippett. He tracked his family's history back to the mid-1800s.

"It's how we understand our past," Tippett said. "How do we understand our ancestors, who we came from, who we are?"
FamilySearch organizers say the digital release of 4 million Freedmen's Bureau historical records is at the core of the new program.
The Freedmen's Bureau dates back to the Reconstruction era. It helped lift newly-freed African Americans in 15 states and the District of Columbia out of slavery, and collected handwritten personal information, including family records, marriage licenses, and hospital and property information.
FamilySearch hopes to have records fully indexed in time for the opening of the Smithsonian's National Museum of African American History and Culture in late 2016.