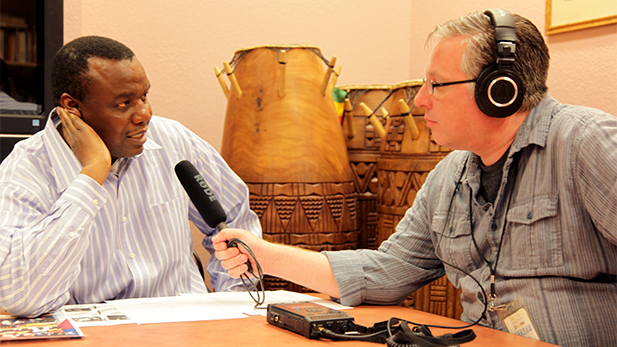 Praise Zenenga, Ph.D., Associate Professor in the Africana Studies Program at the University of Arizona, being interviewed by Mark McLemore

Julianne Stanford
Listen:
Praise Zenenga is an associate professor in the Africana Studies program at the University of Arizona. Originally from Zimbabwe, Zenenga has lived in Tucson for 15 years, and in that time has seen what he calls "significant growth and development" in Tucson's black community.
Zenenga calls Black History Month an important time to recognize contributions made by African Americans, and others of African descent.
He is co-organizer of an event on Saturday, February 27 from 9 p.m. to 2 a.m. at the Cee Dee Jamaican Kitchen at 5305 E. Speedway Blvd.
The event is for people aged 21 and over, with traditional food and music from a band Praise Zenega sings for, The Key Ingredients of African Soul, and K-Bass and Farafina Musiki, plus guest artists visiting Tucson from the Ivory Coast.