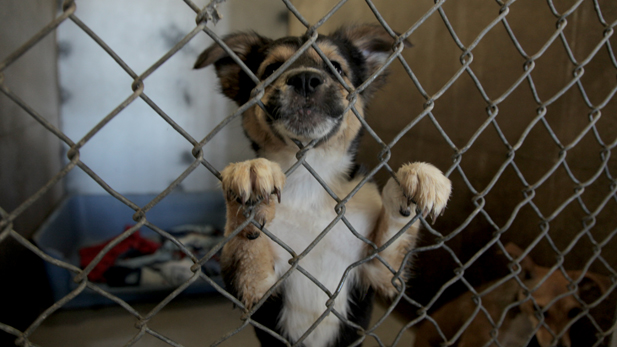 Puppy at the Pima Animal Care Center.

Fernanda Echavarri, AZPM
The Pima County Animal Care Center plans to use a half-million-dollar grant to expand its fostering program and potentially change the way animal shelters work around the country.

Currently, foster volunteers provide homes for young or injured dogs and cats who need more care than the shelter can provide.
The $573,000, three-year grant will allow the shelter to recruit more people to care for healthy adult dogs and cats in their homes temporarily while the animals await adoption. Giving more animals a break from the stressful shelter experience may make them happier and healthier.
"It's much more humane to move them through the shelter into a home while they wait for a permanent home, but on top of that, there's a disease control element." said Kristen Auerbach, director of animal services for Pima County. "The longer an animal's in a shelter, the more likely it is to get an upper respiratory infection, and in a shelter environment a cold can turn deadly pretty quickly."
Auerbach explained that a key part of the expanded foster care program will be taking better care with the volunteers who act as foster parents for animals awaiting adoption.
"To get those animals moved from foster to permanent homes requires some support for the foster families and we've never had that before. And this grant's going to create an entire position who's just going to work once those animals go to foster to get them in a permanent homes, which will prevent some of the bottlenecking that tends to happen when you put animals in a foster," she said.
Auerbach said she's wanted to expand foster care programs at previous shelters she has managed. The grant will support hiring three people to manage the expanded foster care program over the next three years.
The money comes from Maddie's Fund, a foundation that promotes animal welfare and adoption. Auerbach says they hope the expanded foster program will be a model for other animal shelters to follow nationwide.