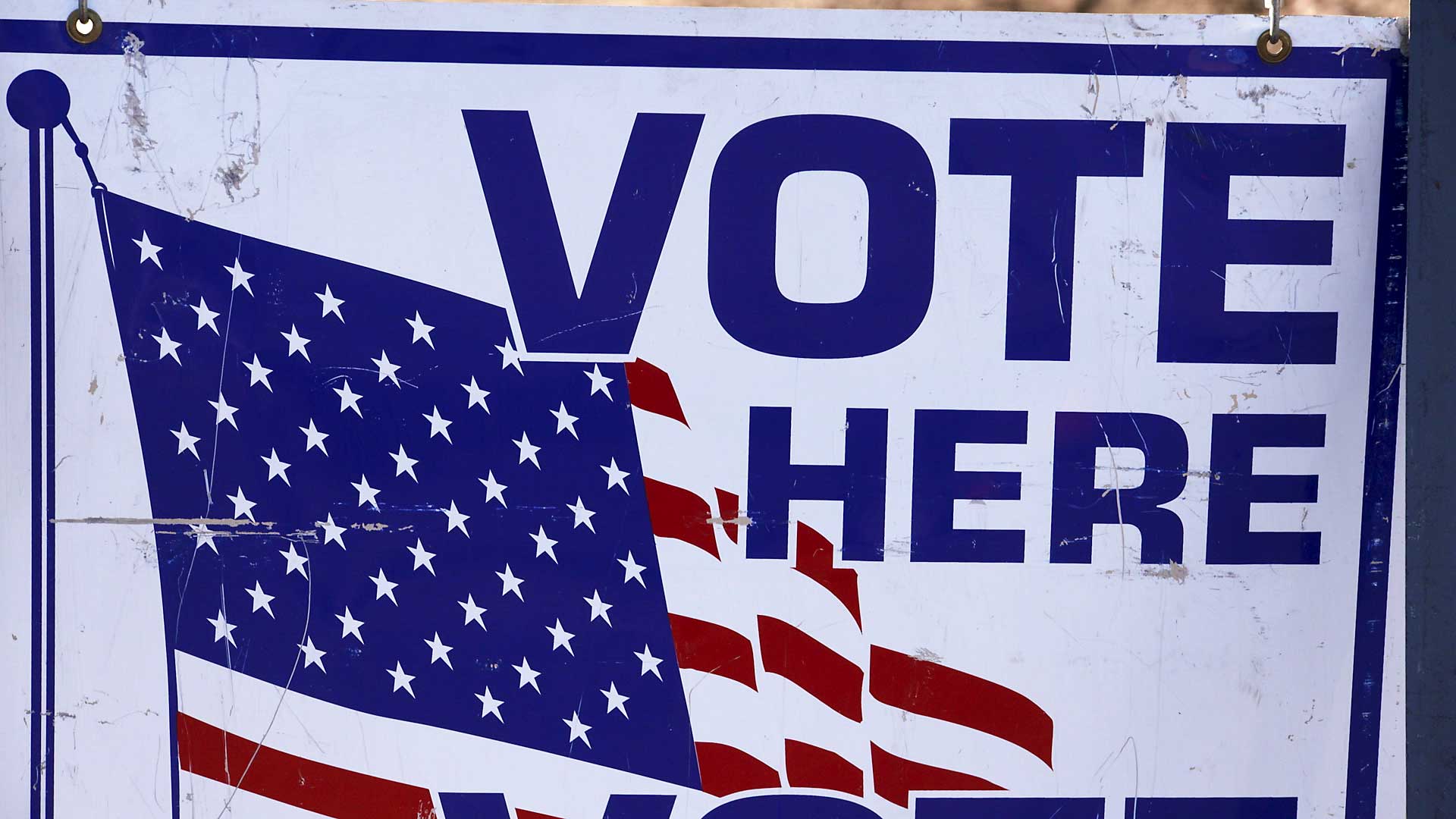 A vote here sign outside of a polling place in Tucson. November 2020.
John DeSoto/AZPM Staff
Legislative Democrats and leaders from several tribes have raised concerns that proposed congressional districts will dilute the power of Indigenous and Latino voters in Arizona.
The Independent Redistricting Commission has proposed reshaping Congressional District 1, for example, which stretches from Oro Valley across the eastern part of the state to the Navajo Nation and Grand Canyon.
Currently represented by Democratic U.S. Rep. Tom O'Halleran, the commission is planning to take the district out of Pima County and instead include Prescott and the rest of Yavapai County — which is currently Republican U.S. Rep. Paul Gosar's district.
"We have carefully reviewed the proposed maps put forth by the commission, and we are very concerned that the new maps will dilute the voices of the first people of this country and this state," said Navajo Nation President Jonathan Nez.
Nez backed a proposal by the Navajo Nation Human Rights Commission to keep Congressional District 1 much like it is today.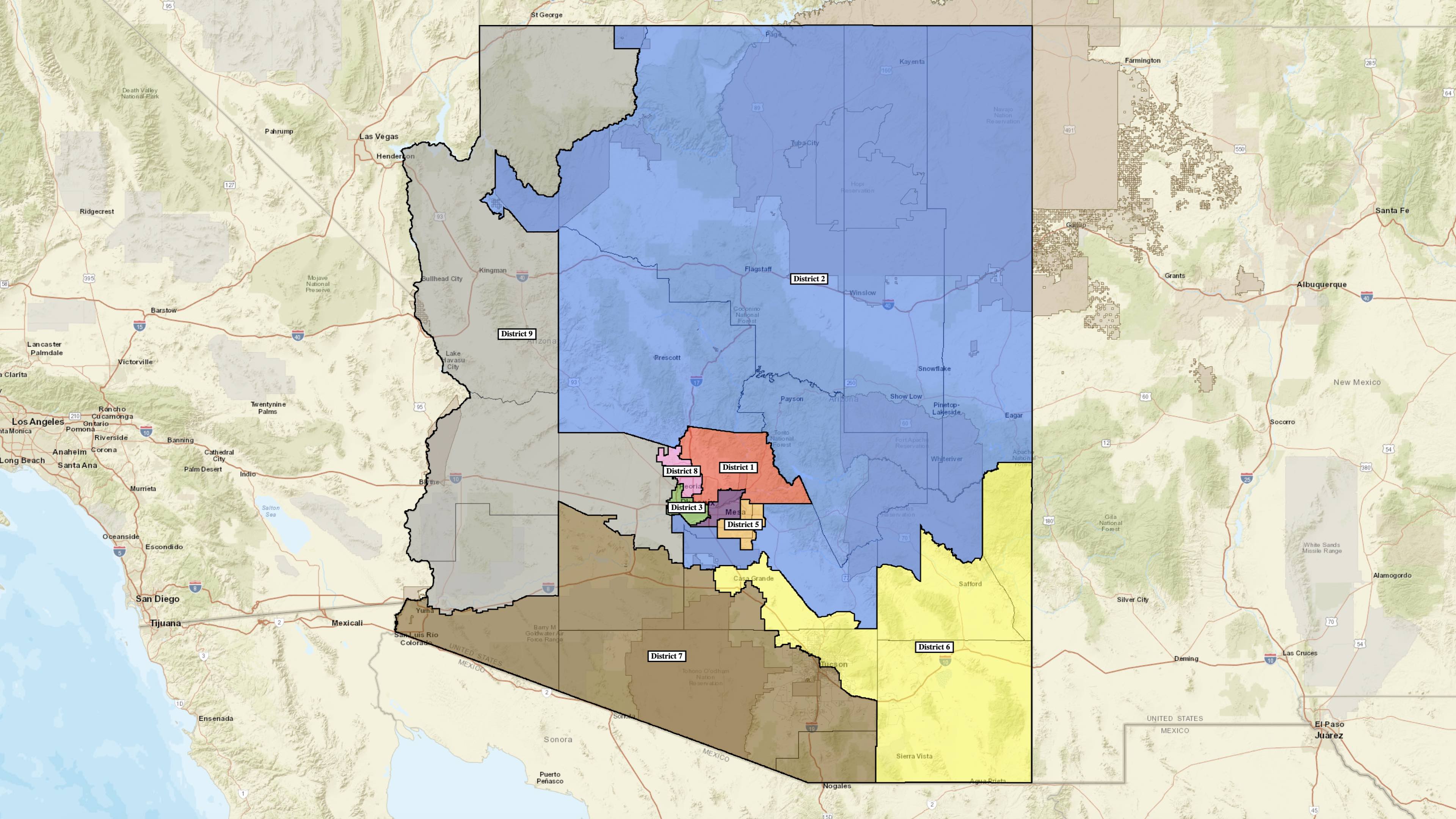 Draft congressional districts approved by the state's Independent Redistricting Commission on October 28, 2021.
Arizona Independent Redistricting Commission
White Mountain Apache Tribe Attorney General KeAloha Douma also asked the commission this week to keep its congressional and legislative districts as close as possible to the current boundaries.
Douma raised concerns about plans to redraw the legislative district that includes the White Mountain Apache Tribe to include Flagstaff but cut out closer communities, such as Show Low and Pinetop-Lakeside, where many citizens of the tribe live, work and attend school.
"We want to ensure that the neighboring towns where our people also live are in the same legislative and congressional districts as the people located on the White Mountain Apache Reservation," Douma told the commission. "Along with many Apache and other Native American families, I work in White River, I live in Pinetop, my children go to school in Lakeside. Along with my other fellow tribal members, we shop in Show Low."
Douma asked that the commission keep legislative and congressional districts as close as possible the current configurations.
Democratic legislative leaders also raised concerns that the commission had not adopted suggestions from the Navajo Nation and said during a hearing Thursday that proposed districts would leave Latinos underrepresented.
"The adopted draft legislative map creates few districts in which Latinos could elect a legislator of their choosing," Senate Minority Leader Rebecca Rios and House Minority Leader Reginald Bolding said in written testimony.
They argued the commission's proposals would create only seven Latino ability-to-elect districts — the same as were created a decade ago during the last round of redistricting — even though the Latino population has grown.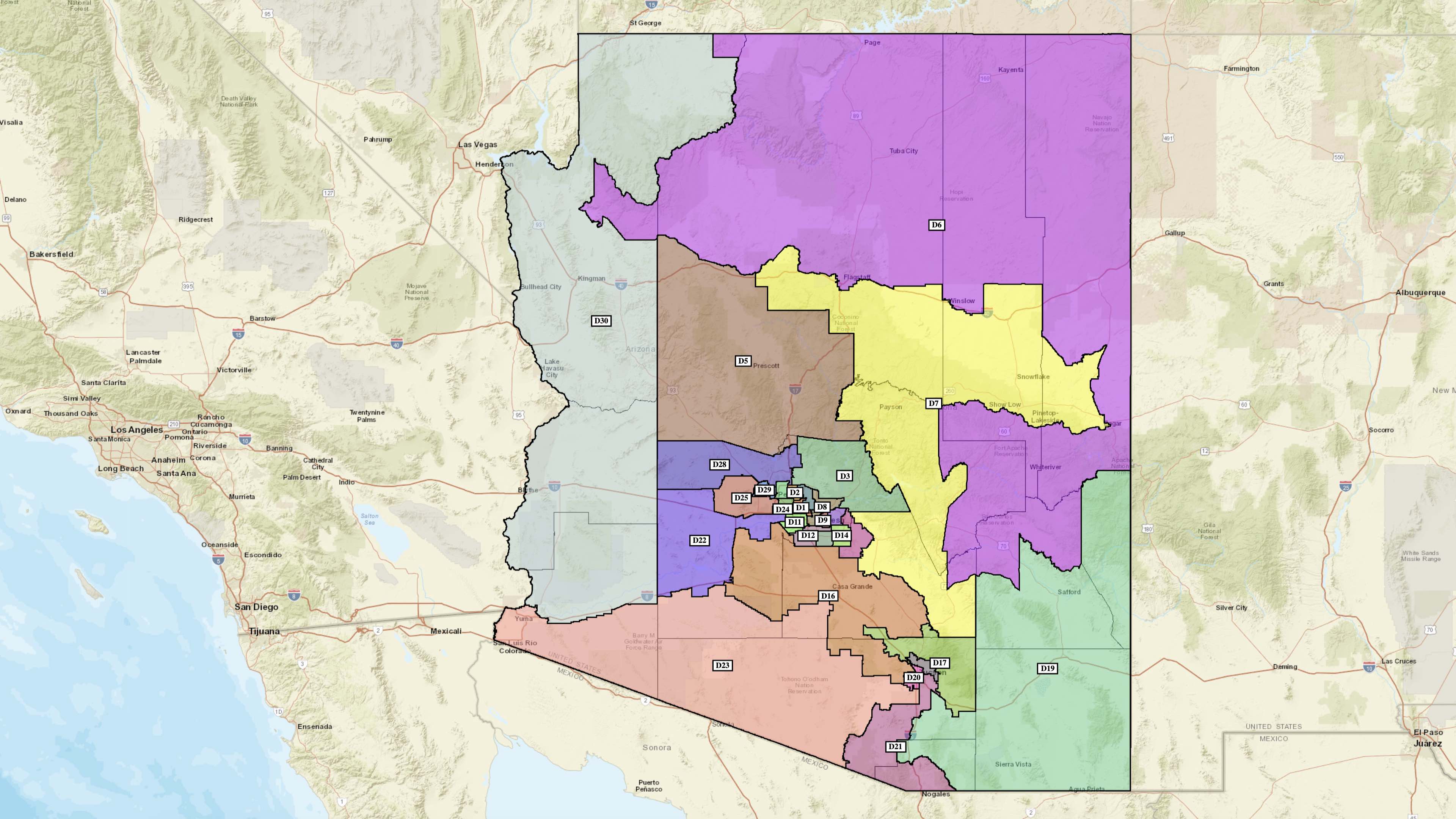 Draft legislative districts approved by the state's independent redistricting commission on October 28, 2021.
Arizona Independent Redistricting Commission
The Democratic leaders also argued that the commission's independent chair had sided disproportionately with the panel's Republican members.
But Chairwoman Erika Neuberg asked Bolding and Rios how they would prefer the commission balance the goal of creating competitive districts with the goal of creating districts where Latino and Indigenous voters are the majorities.
She underscored that the two priorities can be in conflict because consolidating Democratic-leaning voters into a few districts means there are fewer voters to create competitive districts elsewhere.
"There's a mathematical reality that when you account for those eight or nine districts, they're overwhelmingly Democratic," she said.
"When you're looking at those other two thirds of the state, it's no longer a random sample of population. It's actually a highly biased population in terms of partisan leanings," Neuberg added.
The redistricting commission plans to finalize new congressional and legislative districts this month. It plans a hearing in Tucson at 10 a.m. on Saturday in the Sheraton Tucson Airport (7060 South Tucson Boulevard).