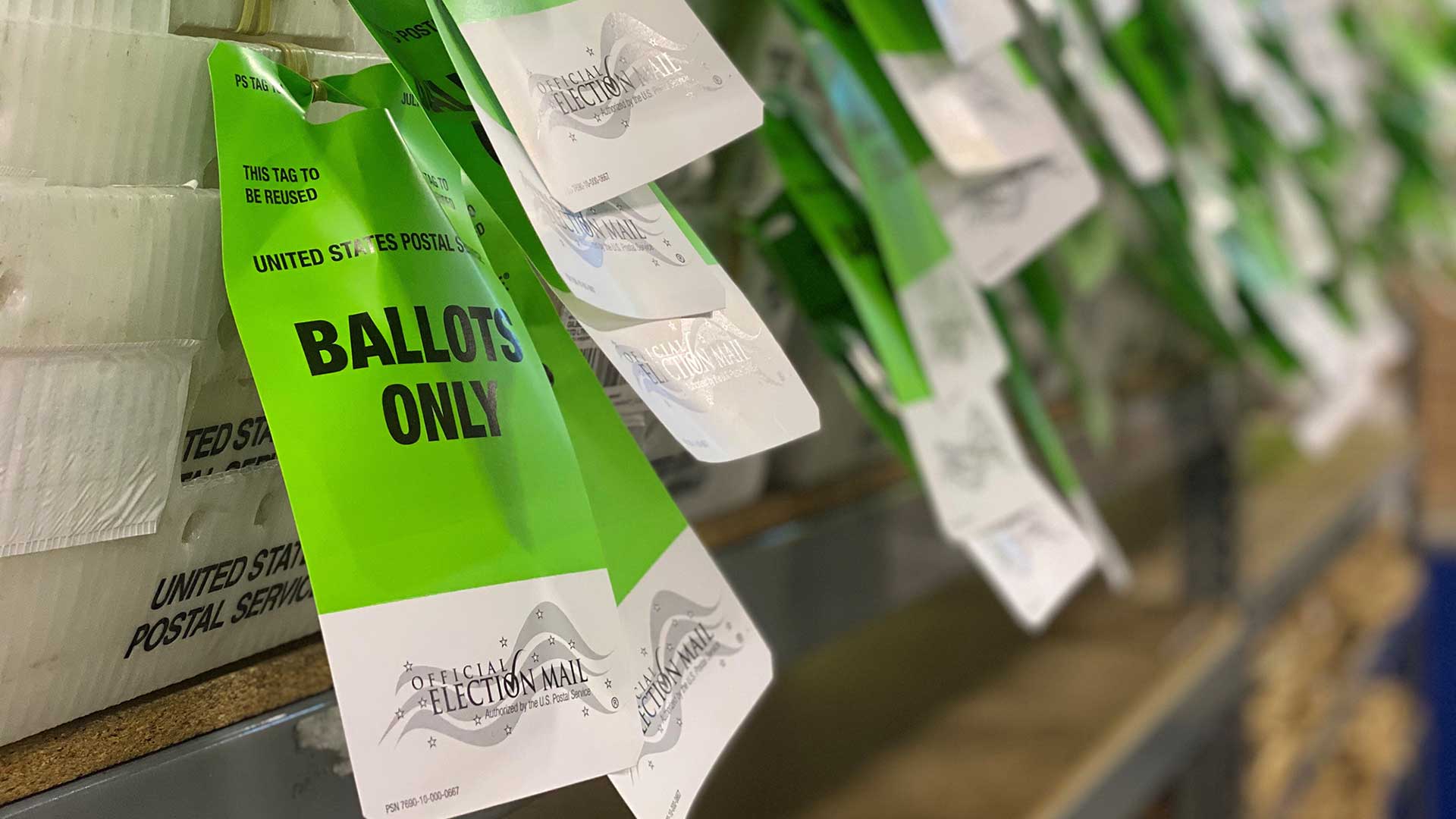 Postal bins with tags for ballots in the 2020 general election.
Courtesy Maricopa County Elections Department
Arizona's election procedures manual is a dry read numbering hundreds of pages.
But it is important, detailing exactly how county election officials across the state should manage the voting process from start to finish, right down to the color of pen that election workers can use when counting ballots.
State law calls for the secretary of state to update the procedures with input from county election officials and approval from the governor and attorney general before the start of each election year.
They missed that deadline, however.
Secretary of State Katie Hobbs, a Democrat, and Attorney General Mark Brnovich, a Republican, could not agree on changes to the manual.
And Brnovich said he would not negotiate directly with the secretary because she filed complaints with the state bar against him and attorneys at his office over unrelated cases.
"So, December 31 has passed and the attorney general has both refused to approve the 2021 manual that was submitted on October 1 and he has also repeatedly refused to come to the table and discuss a mutually agreed upon revised manual," said Bo Dul, general counsel for the Secretary of State's Office.
The attorney general's office did not respond to a message seeking comment.
The proposed changes, among other things, would have required additional cybersecurity measures and for counties to consult with tribal governments on the placement of certain polling locations.
"Our office recognizes that there were positive additions made to the 2019 EPM in the 2021 draft EPM, and we were encouraged to see new provisions related to security procedures and chain-of-custody ballot procedures," Anni Foster, general counsel for Gov. Doug Ducey, said in a letter to the attorney general and secretary of state.
Without updated procedures, the governor's office is encouraging the Legislature to "ensure the continued integrity of Arizona's elections and assist our local officials in providing consistency throughout the state."
Current policy also disqualifies ballots cast in the wrong precinct — a practice that opponents argue disproportionately affects Black, Indigenous and Latino voters but which was upheld by the U.S. Supreme Court last year.
Proposed changes to the manual would have instead called for election officials to count those ballots if otherwise valid.
And the proposed changes would have updated election procedures to include new laws passed by the Legislature in 2020.
The secretary of state's office said it is working with local election officials to implement those new laws, however.
"Even though we won't have those new laws included in a fully updated procedures manual, we've already worked through with the counties how we are going to implement the new laws that have come into effect," Dul said.
Dul added that the election procedures last updated in 2019 will remain in place.
But Eric Spencer, an attorney and former state elections director, is not so sure.
"I don't know what's going to happen. I don't think it's clear the 2019 manual will continue to govern," he said.