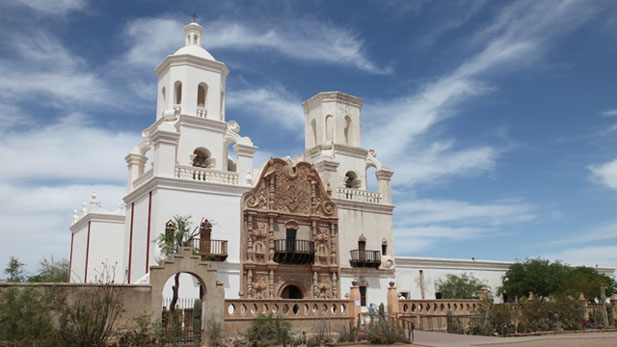 Patronato San Xavier provides tours and has been helping with the restoration of San Xavier Mission.

AZPM
Listen
The Patronato San Xavier is launching a $3 million fundraising campaign.
The funds will be used to restore the east tower of the Mission San Xavier del Bac which is expected to take five years, said Barbara Peck, member of the board of directors for the Patronato.
"If you're looking at the front of the mission you can see how beautiful and white the west tower is and in contrast when you look at the east tower it's very dingy and you can actually see some of the cornices have actually started crumbling off," Peck said.
Restoration of the west tower was completed in 2009 and cost $2.5 million, she said.
So far the non-profit has raised $800,000 from private donors, corporate donations and private foundations, Peck said.
"The mission is probably our most important iconic historic building and you see the symbol on all sort of seals and promotional materials for tourism," Peck said. "It's probably in the top three most important tourism destinations in our community." she said.
Click here to donate.